NLCIL is undertaking desilting of water bodies in peripheral Villages CSR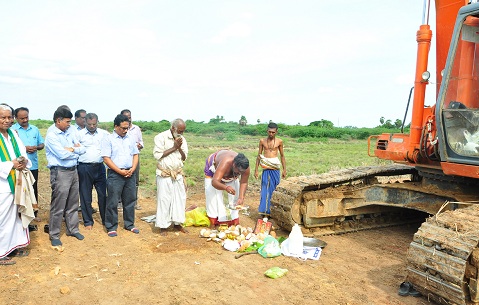 Singrauli: To augment water in water bodies in peripheral villages, NLCIL is undertaking desilting of water bodies in a big way under its CSR initiatives. Further the message of Swachh Bharat Mission is propagated to public through various innovative Activities at Silver Beach, Cuddalore 
NLC India Ltd.
, as part of
Swachch Bharat Mission
initiated activities to create awareness amongst public about the importance of cleanliness by organising various events like
"Seashore cleaning, park cleaning, Street Play, and mass rally in Silver Beach, Cuddalore"
on 30.08.2019. 
Shri R.Mohan CGM/CSR,NLCIL kick started the cleanliness drive in the presence of  Shri V.Ramachandran, GM/CSR, Shri.Sathiyaamurthy, Sub Inspector, Devanampattinam  Police Station in co-ordination with various NGO's like  NBDA, PSG, AVBD,SRKSS, WIPS, Lignite scouts, College students of Jawahar Science College, Neyveli, St.Joseph Arts & Science College, Cuddalore, and CK Engineering College, Cuddalore.  
 The highlights of the event is that more than 500 People participated in this initiative. A Mass rally was organized with, college students and NGOs Shri R.Mohan, CGM/CSR, Shri Ramachandran GM/CSR, Shri.Sathyamurthy Sub-Inspector, Devanampattinam Police Station in their speech insisted about the importance and positive outcome of the   Swachch Bharath Mission. Swachchta Stickers were pasted in the doors of houses in villages. A flash mob dance and street play was conducted in the Sea Shore to create Awareness among the college 
students and general public about clean India. A pledge was administered among the public to maintain the public places clean & green.
It is very noteworthy to mention that NLCIL has undertaken desilting of important tanks in nearby villages like Putteri in Kummudimoolai Village   (100 Acres of area and  2, 50, 000 Cubic Metre of silt).  Thangal  eri   (55 Acres of area and 1,80,000 Cubic Metre  of silt)  in Nathamedu Village and  Periyamadavu Eri (45 Acres of area and 1,40,000 Cubic Metre of silt) in Chockkan kollai  as part of Swachh Bharat  Mission  under its CSR activities for the financial year 2019-2020 to augment the water carrying capacity.
Through this project around 200 Acres of the water bodies viz Eri, lakes and ponds will be desilted with a cost of Rs.380.45 Lakhs. Desilting of Putteri in  Kummudimoolai will benefit 266 Acres of Ayacut and villages like Jayangondan, Karaimedu, Kattakuddalore and Kummodimoolai.
Similarly, desilting of Thangal Eri in Nathamedu will benefit about 266 Acres of Ayacut and villages Nathamedu, Krishnapuram  and Desilting of Periyamadavu Eri in Chockkan Kollai will benefit about 900 acres of Ayacut  and  villages like Chockkankollai and Kummodimoolai.
Bhoomipooja works at all water bodies was performed on 30.08.2019 in the presence of farmers and general public of respective villages .
Posted Date : 10-09-19
Categories : CSR