IOCL-GSPL signed MoU with ALIMCO for Distribution of Aids & Assistive Devices to Divyangjans CSR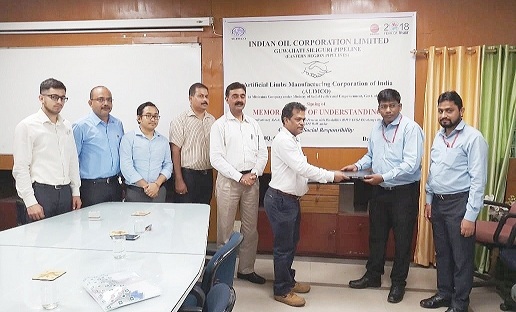 Guwahati: Indian Oil Corporation Limited,
Guwahati-Siliguri Pipeline (Eastern Region Pipelines) and
Artificial Limbs Manufacturing Corporation of India
(ALIMCO) have signed a MoU on 11th July 2018 at IOCL, GSPL Guwahati for distributing Aids and Appliances worth Rs.50.00 Lakhs at free of cost to Persons with Disabilities (PwDs) along GSPL Right of Way (RoW) in the state of Assam and West Bengal for the Financial Year 2018-19 under its Corporate Social Responsibility initiative.
The MoU was signed by Shri Amlan Kumar Das, Chief Technical Services Manager, IOCL-GSPL Guwahati & Shri S.Sengupta, Dy. Manager and I/C ALIMCO, Guwahati in the presence of Shri A K Mishra, General Manager, GSPL and other officials of GSPL. 
IOCL has sponsored aids & appliances for approximately 625-650 Nos. of PwDs. This major CSR initiative of IOCL will help the Persons with Disabilities (PwDs) to overcome the difficulties posed by their disability, thereby enabling them to lead a normal & productive life and making them fully independent. This effort will not only bring these underprivileged PwDs to the mainstream of life but will also contribute to the National economy.
Posted Date : 12-07-18
Categories : CSR