NCL Produce 3.5 MT Coal in Amlohri Coal Project PERFORMANCE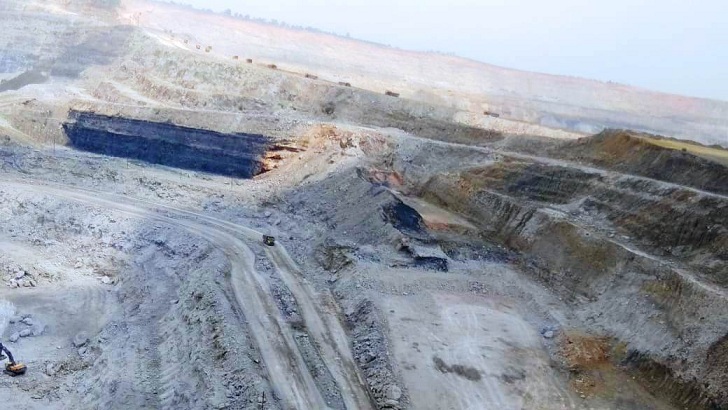 New Delhi: In first of its kind endeavour, the Amlohri Coal Project of Northern Coalfields Limited has excavated 3.5 MT of coal worth Rs.370 crores locked in the boundary between Amlohri and Nigahi mines.
Coal is not just a precious fuel but it is also a much sought-after commodity for development of the nation. But coal mining is no plain vanilla walk. It requires working in harsh conditions. And the situation becomes all the more challenging when it comes to excavating coal from coal boundary. Coal Boundary is the boundary between two mines. More often than not, large volumes of coal are locked in the boundary. Among others, the most obvious reasons why mine-boundaries are not minable is the prevalence of infrastructure over it like Haul Road, power lines, pipelines etc. Also, it is the mine boundaries which determine the area of statutory compliances.
Despite the challenges, in first of its kind endeavour, Amlohri Opencast Project of NCL has excavated coal locked in these boundaries. Approximately 18 MT of coal is locked up in the inter-mine boundary between Amlohri and Nigahi mine. Of this, 13 MT is in Turra Seam and 5 MT in Purewa Seam. To extract this coal, team Amlohri chalked out a multi-faceted plan which included diversion of the road from Nigahi Project Dumping.
Hail to the synchronised advance to create dump space and development of upper benches on both sides with proper gradient for haul roads, the road is now fully operational. The new diverted road has helped expose coal lying below the old road. This has helped maximise coal extraction from the given geological block. In year 2016-17, total of 1.5MT of blocked coal was recovered. Similarly, in year 2017-18, 2MT of coal has been recovered. The total value of the blocked coal excavated so far is Rs. 370 crores. Further, recovery of 14.5 MT is proposed.
After successful completion of this pilot project at Amlohri, the same will help in benchmarking inter-mine coal extraction process in other mines of NCL too.
Posted Date : 17-07-18
Categories : PERFORMANCE