WAPCOS celebrates Golden Jubilee PSU NEWS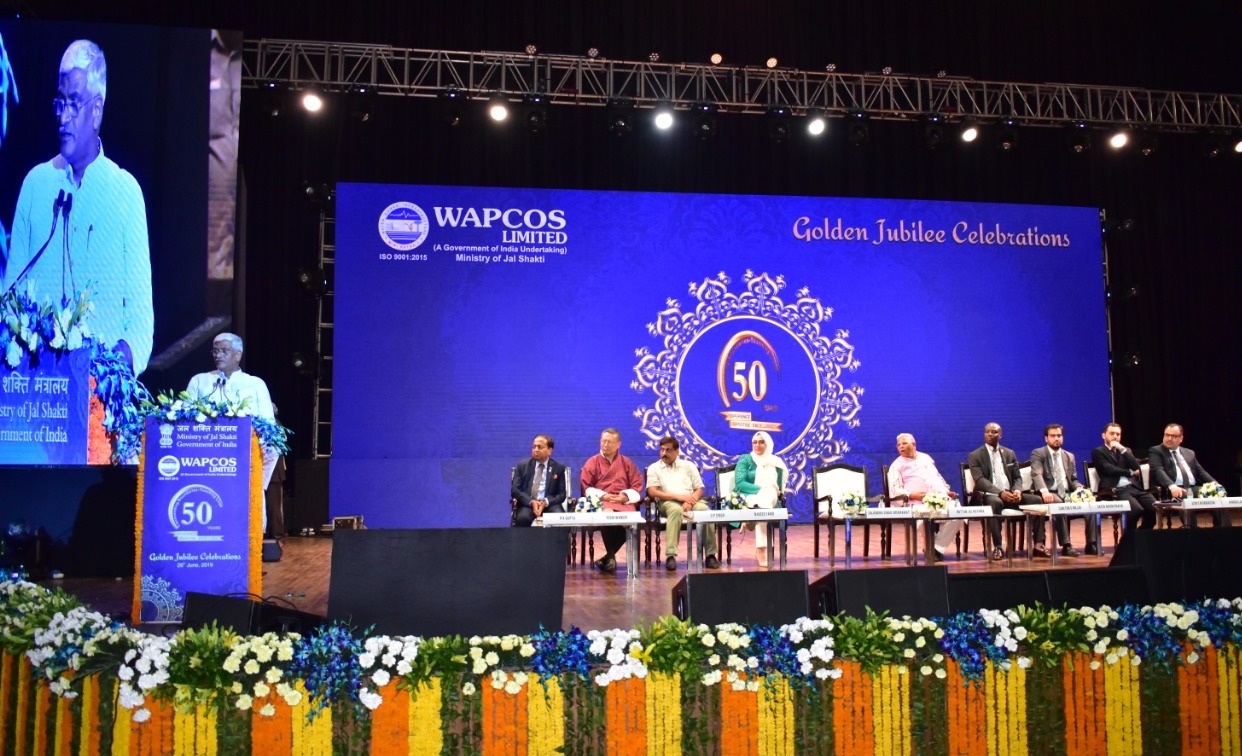 WAPCOS, which was incorporated as a Public Sector Enterprise in 1969 by the Government of India, celebrated its Golden Jubilee on 26th June, 2019.  In commemoration of this historic occasion, the Company organized Golden Jubilee Celebrations with the theme "Transcending Boundaries – Touching Lives" at Siri Fort Auditorium, New Delhi.
Shri Gajendra Singh Shekhawat, Hon'ble Union Minister, Ministry of Jal Shakti was the Chief Guest of the event. Shri Rattan Lal Kataria, Hon'ble Minister of State; Ministry of Jal Shakti and Ministry of Social Justice and Empowerment was the Guest of Honour, in the august presence of Shri U.P. Singh, Secretary, Ministry of Jal Shakti, Government of India.  Dignitaries from several countries was present during the function.
Shri Gajendra Singh Shekhawat, Hon'ble Minister for Jal Shakti stated that WAPCOS is an important organization, which had not only taken path breaking developmental activities, but also came forward in a big way to take up challenging social issues. Conceptualization to completion is the motto of WAPCOS, he added.
Hon'ble Ministers, Ambassadors and Leaders of Delegations from 26 Countries presented commendation certificates to Shri Shekhawat for the contribution made by WAPCOS by developing projects and touching lives of the people in these Countries. The visiting delegations conveyed gratitude to the Government of India for partnering in socio-economic in their countries through WAPCOS. A Coffee Table Book on WAPCOS and WAPTECH – A Technical Journal were also released by the dignitaries.
Speaking on the occasion, CMD, WAPCOS, Shri R.K. Gupta said that WAPCOS is a leading technology driven consultancy and EPC organization with strong global presence in the fields of Water, Power and Infrastructure Sectors. WAPCOS has successfully completed/on-going consultancy assignments in countries covering Asia, Africa, Middle East, South America and Pacific Island and is operating in more than 47 Countries, at present.
Posted Date : 28-06-19
Categories : PSU NEWS