AAROHAN UNDER-19 SUMMER CAMP BEGINS AT NCL PSU NEWS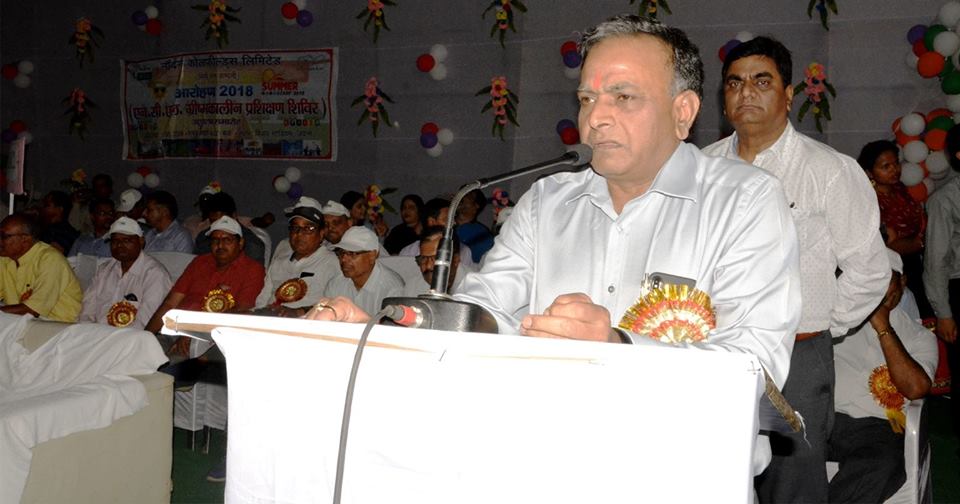 SPORTS PRODIGIES TO BRING NCL FAME LOCALLY AND GLOBALLY- SHRI P.K.SINHA
Singrouli: The under 19 summer camp, named Aarohan, began in Northern Coalfields Limited on Sunday at Vijay Stadium of NCL Jayant Area. The camp witnessed overwhelming participation from children and parents from in and around operational areas of NCL. Nearly 900 children enrolled themselves in the camp which offers sporting choices for as many as 7 different sports.
The CMD NCL Shri P.K.Sinha graced the inauguration ceremony as Chief Guest. The Director (Technical/Operations) Shri Gunadhar Pandey, the Director (Finance) Shri P.S.R.K Sastry and the Director (Technical/Project & Planning) Shri P.M.Prasad was present as guest of honor. Representatives of trade and officers union- Shri Ashok Dubey & Shri Hiramani Yadav and Shri Tarkeshwar Prasad & Shri Sarvesh Singh were also present as special guests.
In his inaugural address, Shri P.K.Sinha applauded Team Personnel for arranging the camp in open-to-all format and expressed hopes that children from in and around operational areas of NCL will benefit from the camp. In his special address to children, Shri Sinha inspired them to make the phenomenal impact at their respective sports and bring NCL laurels- not only countrywide but worldwide too.
Speaking at the ceremony, the Director(Technical/Operations) Shri Gunadhar Pandey referred to the prominent number of girls enrollment in the camp as a share of total enrollment and emphatically issued necessary directives to the organizing team. He further mentioned about the extraordinary success achieved by Indian Women Cricketer Ms.Nuzhat Masih Parween and said that it is the same Vijay Stadium ground from where Ms.Parween started her cricketing journey. Notably, Ms.Parween is the daughter of Shri Masih Alam who works as Dozer operator at Jayant Project of NCL.
The Director (Technical/Project and Planning) Shri P.M.Prasad encouraged students to hone their sporting skills and make best use of the facilities available at the camp. Shri Prasad also assured the gathering that NCL will extend all help for nurturing budding sports talent not only during the camp but after the camp as well.
In a first, the summer camp this year is aimed at forming an Under-19 NCL Team which will be trained regularly and firmly enough to represent NCL at various sports forums. The 45-day long summer camp includes training in Badminton, Athletics, Table Tennis, Kabbadi, Volley-Ball, Cricket and Football at various areas and service units of NCL.
Prior to this, the Chief of Personnel Shri Charles Juster in his welcome address said that parents should motivate their children to participate in summer camp activities thereby helping them develop holistically.
YOUNG HR PROFESSIONAL WRITES A BOOK-
Epitomizing the concept of holistic development inbuilt in the very culture of the company, the CMD NCL along with the Functional Directors, also inaugurated a book 'Laws of Jungle' written by young HR professional of the company named Shri Bhaskar Sharad. Shri Bhaskar is working as Deputy Manager (HR) at NCL Headquarters. Set in the backdrop of forests of Sundarbans, the book is a work of fiction in which interplay between various characters help readers churn out important life lessons. On this occasion, wife of Shri Bhaskar Sharad- Mrs.Shrija Sharma and his 2 years old daughter Ms. Bhargavi also accompanied him onstage.
CULTURAL PROGRAMMES-
On this occasion, children presented an interesting mix of cultural renditions which incorporated sporting moves. The programme culminated with the formation of the human chain by children.
Posted Date : 15-05-18
Categories : PSU NEWS