Coal Consumer Power Plants of NCL have Sufficient Coal Stock: CMD, NCL PSU NEWS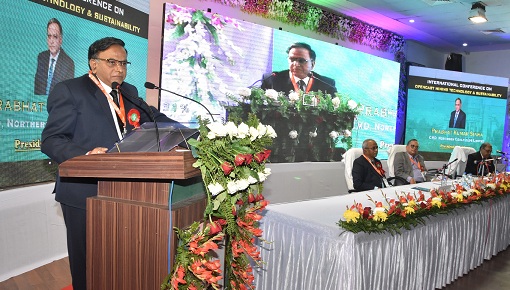 Singrauli: Shri P. K. Sinha,
Chairman-Cum-Managing Director (CMD) of
Northern Coalfields Limited
(NCL) has said that coal consumer power plants of NCL have sufficient coal stock, during inauguration session of the first
'International Conference on Opencast Mining Technology & Sustainability-2018'
(ICOMS-2018)' at the NCL Quarters, Singrauli.
Shri D. K. Hota,
CMD,
BEML Limited
was present at the inauguration session as the chief guest while Director
Central Institute of Mining &
Fule
Research
(CIMFR)
Dr. P. K. Singh
and Vice-Chancellor
AKS University, Satna
Dr. P. K. Banik
were the guests of honours. Indian Institute of Technology (IIT), BHU Varanasi and AKS University, Satna are the knowledge partners of the conference.
Addressing the inauguration session NCL CMD said that company is going to produce a record 100 million tonne coal during the financial year 2018-19. But this record coal production will be a benchmark only, not the ultimate target. Company targets to produce even more coal per annum in the upcoming years. Keeping this in mind, NCL will seek the help of mining stalwarts from across the globe to induce holistic positive changes in its operations and organization of ICOMS-2018 is part of company's these efforts.
CMD BEML Shri D. K. Hota said that his company was proud of contributing towards fulfilling nation's energy needs through coal sector's top company like NCL.
Director CIMFR Dr. P. K. Singh said that NCL had contributed immensely in supplying electricity in every corner of country and company had established Singrauli as the new coal capital of India.
Vice-Chancellor AKS University Dr. (Shri) P. K. Banik hoped that considering the upcoming challenges in increasing energy demands of India, ICOMS-2018 organised by NCL would benefit mining sector of the entire country and its benefits would not be limited to NCL alone.
Opencast specialists like academicians, scientists & mining professionals have gathered in the conference to deliberate upon the challenges & opportunities of the coal sector and are sharing their invaluable knowledge & experience with the participants.
Grand Mining Technology Exhibition:
A grand mining technology exhibition showcasing different technologies used in coal mines has been organized in the conference. Reputed companies from across the world, which manufacture the Heavy Earth Moving Machines (HEMM) & other machines used in opencast mines, are showcasing their technical expertise through print & electronic mediums. Stalls have also been arranged to showcase different activities of NCL
Posted Date : 14-12-18
Categories : PSU NEWS