IndianOil Kavi Sammelan Mesmerises Poetry Lovers PSU NEWS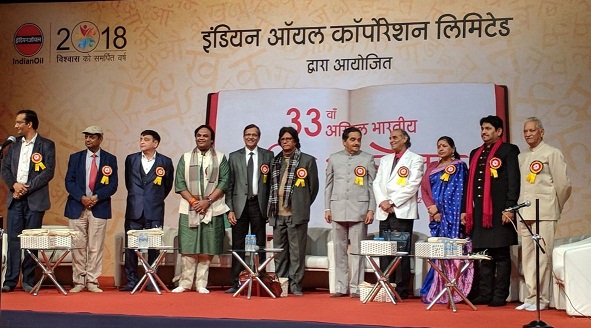 New Delhi: The 33rd edition of 'IndianOil Akhil Bharatiya Kavi Sammelan' was held at Siri Fort Auditorium in New Delhi yesterday. The much-awaited annual poetry confluence lived up to its reputation of being one of the top cultural events of the city and the national calendar. The brightest luminaries in the field of Hindi-Urdu poetry regaled the discerning audience at the event that inaugurated by Mr A K Sharma, Director (Finance), IndianOil, by lighting the traditional lamp, in the presence of Mr Anish Aggarwal, Director(Pipelines) and invited poets.
Noted poet Sheen Kaaf Nizam presided over the evening and Dr Shiv Om Ambar conducted the session with the aplomb that saw the outpouring of insightful poetry by renowned poets from across the country that included veteran names as well as some new poets who are making a mark on the firmament of Hindi poetry. Dr Hariom Pawar, Dr Sunil Jogi, Dr Vishnu Saxena, Arun Jemini, Dr Seeta Sagar, Aalok Shrivastav and Sudeep Bhola completed the illustrious line-up. 
The expressions and subjects ranged from wit, satire, patriotism to contemporary socio-political issues, entwined in poetic genres like geet, ghazal and couplets, conveying the message of hope and harmony. The frequent applause from the audience encouraged the poets, who mesmerised with their rendition.
The All India Kavi Sammelan is a testimony to IndianOil's commitment towards patronising the rich Indian culture, literature and arts in general and Hindi language in particular. This flagship poetry event has been lauded by the litterateurs and masses alike, for bringing the two together on a platform.
Posted Date : 02-02-18
Categories : PSU NEWS