MCL will Produce 162.5 MT Coal, During 2018-19 PERFORMANCE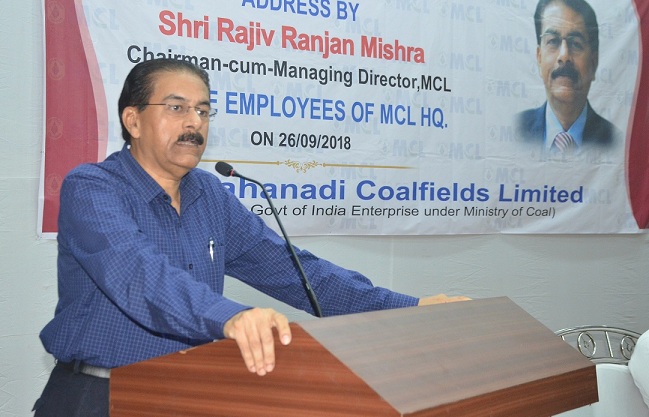 Sambalpur: Shri RR Mishra, CMD, Mahanadi Coalfields Limited (MCL) visited Ib Valley Coalfields, yesterday to take the stock of the operational situation and emphasised on collective efforts to overcome challenges to achieve the uphill target of 162.5 million tonnes during the current financial year 2018-19.
Mr Mishra, who took over the additional charge of MCL yesterday, visited Samleshwari OCP and Lakhanpur OCP in Jharsuguda district of Odisha, also interacted with the representatives of trade unions and officers' association at company headquarters here.
Emphasising on the advantages of collective participation, the CMD said, 'No target is unachievable for a company if the fundamentals requirements are met for the human resource and concerted efforts are made by one and all.' Mr Mishra, who chaired the coordination meeting of Area General Managers, expressed his concern over the increasing asking rate of coal production to achieve the target. 'You have the potential and you can achieve beyond your respective targets' the CMD said to the Area General Managers as he advised heads of various departments at HQs to extend full support to the teams at areas and project level. 
The CMD also interacted with the Young Officers and discussed various organisational challenges before the company and future prospects. He motivated Young Officers to take of the lead roles. Earlier, Mr JP Singh, Director (Technical/Operations), welcomed Mr Mishra with shawal and shreefal in  the presence of Mr Munawar Khursheed, CVO, Mr OP Singh, Director (Technical /P&P) and Mr KR Vasudevan, Director (Finance). All officers and staff at MCL HQs enthusiastically listened to the motivating words of their new leader. 
MCL had produced over 143 million tonne coal during last financial year 2017-18 while it dispatched more than 138 MT dry fuel to various consumers across the country. 
Posted Date : 27-09-18
Categories : PERFORMANCE