National Conference on 'Emerging Technologies in Steel Processing and Metal Forming' inaugurated at NIFFT PSU NEWS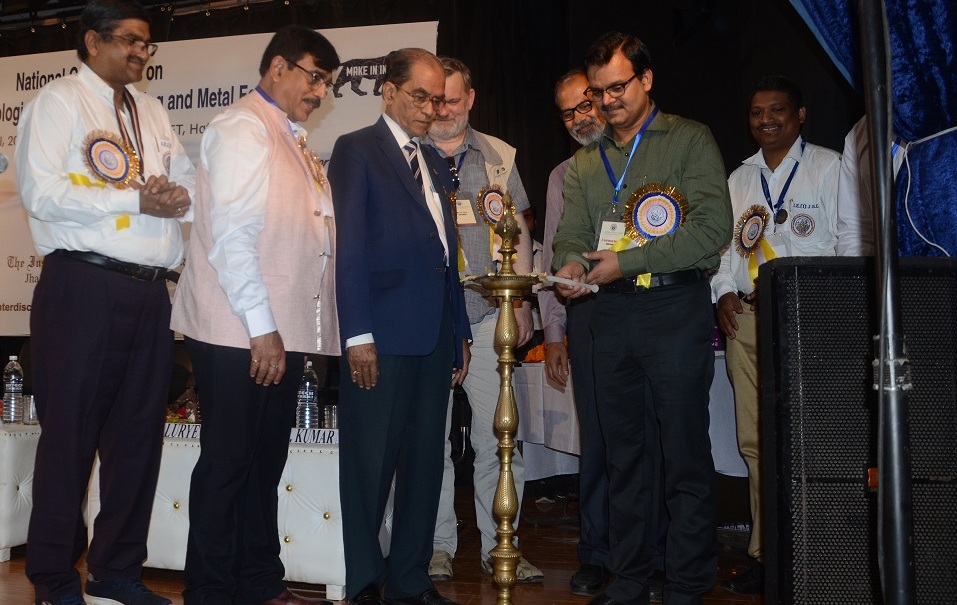 Ranchi: Heavy Engineering Corporation Limited in association with the Institution of Engineers India and with the support of NIFFT, Ranchi, is organizing a two day Conference (ETCON 2018) on 'Emerging Technologies in Steel Processing and Metal Forming' at Ranchi/NIFFT on 14th and 15th April 2018.
The Conference was inaugurated by Dr Sunil Kumar Barnwal, IAS, Principal Secretary to CM, GoJ, on 14th April at NIFFT Auditorium.
Shri Avijit Ghosh, CMD, HEC, Dr PP Chattopadhyay, Director, NIFFT, Shri Sanjay Sen, Chairman, IE, JSC, Mr VV Lurye from CNIITMASH, Russia, Shri SK Banerjee, President IE (I), Dr AK Dash, CoBD, HEC and Mr M R Kumar, Hon Secretary. IE (I) were the esteemed dignitaries present during the inauguration
The national conference has drawn the interest of academia, research organizations and industry PAN India and to share their views with an aim to get closer to each other and to create of a collaborative platform for conducting research in Steel Processing and Metal Forming.
The important facets broad sub-themes of the conference deliberated upon will be:-
1. Recent developments in steel melting & refining technologies, including but not limited to control of gas content & inclusion morphology, reduction of energy consumption, better environmental protection techniques
2. Emerging trends in metal forming processes, As: forging, rolling, fabrication, machining and extrusion
3. Inspection and quality control techniques
4. Industry 4.0 and its role in the Engineering industry
5. Design and development of new materials and processes
6. Heat treatment and other thermal processing techniques for steel
7. Application of software and the benefits envisaged
8. Education, training and research perspectives, the importance of industry-institute interactions
9. Critical aspects and futuristic approach in the focus area.
Resource faculty from BIT Mesra, R&D SAIL, MECON and HEC would also deliver papers in the field of  Steel Processing and Metal Forming' during the two-day conference.
Apart from Mr VV Lurye from CNIITMASH, Russia being the main speaker on 14th April, Prof G G Roy & Prof Debalay Chakrabarti of IIT Kharghpur would be present as main speakers on 15th April 2018. The topic of 'Emerging Technologies in Steel Processing and Metal Forming' is of greater importance considering the fact that the 'Make in India' concept is supported by innovation and sustainable state-of-the-art technologies.
With participation from personnel from premier institutes like NIFFT-Ranchi and IIT-Kharagpur, research organizations like CNIITMASH-Russia and RDCIS-Ranchi and industries from Jharkhand State and other places of the neighbouring States, this Conference is expected to present a suitable platform for sharing of knowledge not only through presentation of papers but also through direct interactions.
Posted Date : 14-04-18
Categories : PSU NEWS