NRDC Inks MoA with MIDHANI MOU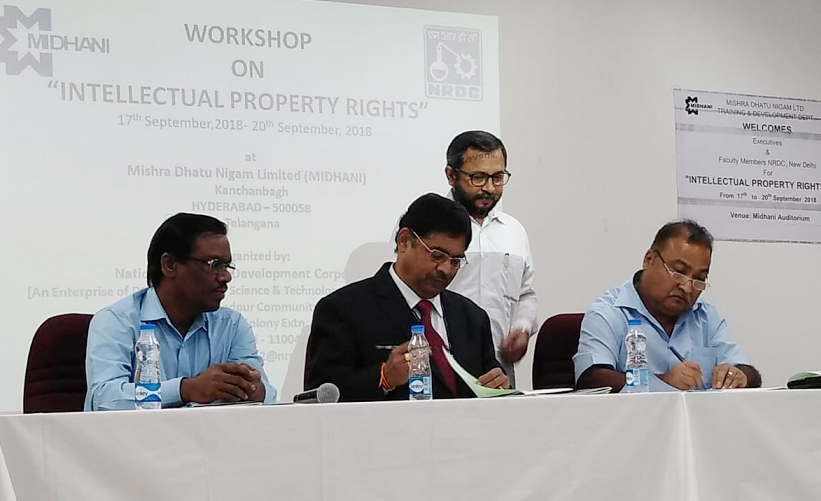 New Delhi/Hyderabad: National Research Development Corporation
(NRDC) signed a Memorandum of Agreement (MoA) with
Mishra Dhatu Nigam Limited
(MIDHANI), for providing support to MIDHANI for IPR consultancy in Patent filing for the technologies developed by MIDHANI and in organising capacity building training programmes and workshop for creating awareness in IPRs.
This MoA was signed by Dr. H Purushotham, CMD, NRDC and Dr. Dinesh Kumar Likhi, CMD, MIDHANI in presence of Shri K Sivasubramanian, General Manager, R&D, MIDHANI, Dr Sanjeeva Kumar Majumdar, Manager, NRDC and Senior officials.
Dr. Likhi said, 'patent protection is not a choice but it is a compulsion now to remain competitive in the market particularly by PSU's.'
Dr. Purushotham while addressing the participants said, 'it is not that innovations are not happening in the production units but the skill to notice, recognize and the culture of protecting the innovation is missing in the organisations and training programmes like this will provide such skills in the employees.'
As a part of this programme, NRDC also organised a four-day training programme on IPR capacity building for MIDHANI officials. About 10 resource persons from DRDO, HAL, Patent Attorneys, National Law School etc. delivered lectures and hands-on training during the programme. About 80 MIDHANI officials attended the four-day IPR training programme.
Posted Date : 26-09-18
Categories : MOU