RINL Supplies Drinking water to RH Colonies CSR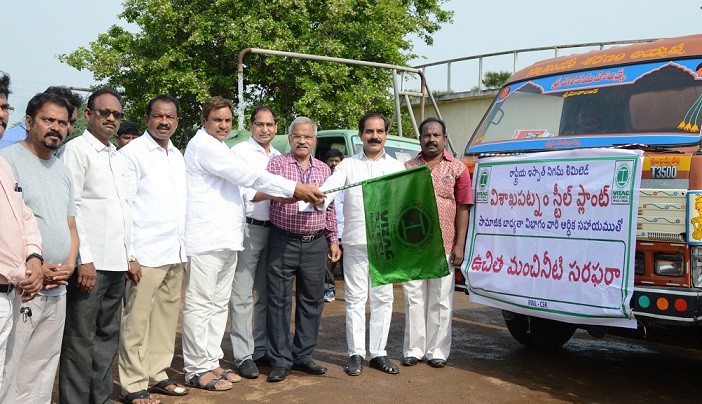 Visakhapatnam:
Another summer is here and RH colonies & its surrounding villages have been hit by water crisis. In order to mitigate the water crisis,
RINL
has taken up supplying of drinking water to Rehabilitation Colonies and its surrounding villagers through Water tankers during summer season, as a part of Corporate Social Responsibility outreach programme.
Every day 65,000 Liters of drinking water is being supplied through tankers to Aganampudi, Vadlapudi and Gangavaram RH Colonies & its surrounding villages which witnessed shortage of drinking water during the summer season. The total estimated cost of the project is Rs 11.85 Lakhs.
Since beginning RINL partners with GVMC every year for supplying drinking water to localities facing acute water shortage in summer, under the ambit of CSR program. This activity not only helps manage drinking water scarcity, but also reduces dependency on unhygienic and unreliable water sources.
Shri P K Mohapartra, ED (Law, GA&TA), RINL inaugurated the supply of Drinking water to RH Colonies and surrounding colonies by flagging off the water tankers today. Shri G Gandhi DGM (CSR) representatives from unions, SEA, WIPs and SC & ST association attended the inauguration function.
In addition to the above, RINL regularly taken up several CSR activities in the RH colonies for the overall improvement of the standard of living.
Posted Date : 04-05-19
Categories : CSR