SJVN Foundation Signed an MoU with Help-Age India CSR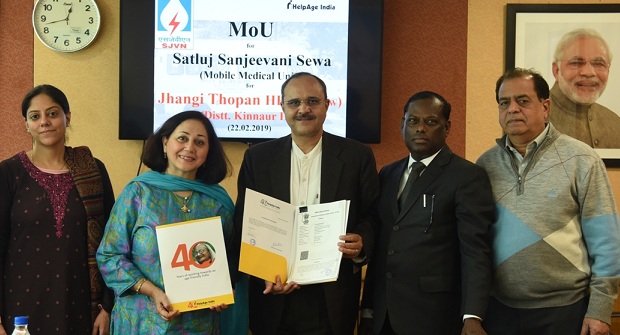 Shimla/New Delhi:
SJVN Foundation
has entered into the MoU with
HelpAge India
for deployment of one Mobile Medical Unit (MMU) in Jangi, Distt. Kinnaur. This MOU was signed by
Shri D P Kaushal,
CGM (HR), SJVN and
Smt. Madhu Madan,
Country Head, Resource Mobilization, HelpAge India in the presence of
Shri A. S. Bindra,
Director (Finance), SJVN Limited at New Delhi.
Here it is relevant to mention that the free health consultancy and medicines to the rural people is already being provided under the umbrella of the project 'Satluj Sanjeevani Sewa' through 14 mobile medical units (MMUs) by SJVN in the states of HP, Uttrakhand, Bihar and Maharashtra. The MMUs are equipped with qualified medical staff (MBBS doctors, pharmacists, social protection officers) and basic diagnostic test equipment. The new MMU will be deployed in the tribal district of Himachal and provide free health services to the local people.
SJVN has since been implementing CSR activities in and around its area of operations and making a significant contribution to the improvement of the quality of life of stakeholders.
It is worthwhile to mention that SJVN undertakes its CSR and Sustainability projects in six verticals namely, health & hygiene, education & skill development, sustainable development, infrastructure & community development, assistance during natural disasters, promotion of culture, heritage & Sports.
In the area of health, SJVN is operating 14 Mobile Medical Units in the states of HP, Uttrakhand, Bihar and Maharashtra which has already benefitted more than 6 Lakh patients. Further, various projects like organizing specialized health camps, conducting Ayurvedic health awareness programs, financial support for construction of Integrated Muscular Dystrophy Institute, providing aids and assistive devices to persons with disability through ALIMCO are benefitting underprivileged sections of society.
Posted Date : 23-02-19
Categories : CSR