State Minister for Coal & Mines Inaugurates Site office for NLC New Thermal Power Project PSU NEWS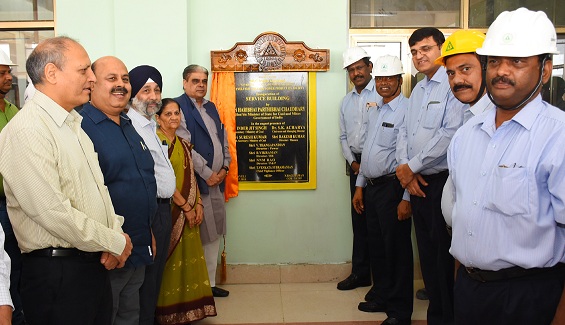 Neyveli: The Minister of State for Coal & Mines Shri Hari Bhai Parthi Bhai Chaudhary along with Dr. Inder Jit Singh, IAS, Secretary, Ministry of Coal Visited NLCIL for Consultative committee review meeting attached to Ministry of Coal held at Neyveli on 5th and 6th July 2018.
As part of their visit, on 06 july 2018, Minister Inaugurated the Service Building for Neyveli New Thermal Power Project (NNTPP ) (2 x 500 MW)  which was constructed at a Cost of Rs.12 Cr. with the plinth area of 7035 Sq.m and the seating capacity of 372 persons. Also, Hon'ble Minister commissioned the major equipment's Motor Driven Boiler Feed Pump, (MDBFP), Condensate Extraction Pump (CEP) and Rotary Air Pre-Heater (RAPH) for NNTPP in the presence of the Secretary/Ministry of Coal, Additional Secretary/Ministry of Coal, Dr. S.K Acharya, CMD, NLCIL and Functional Directors of NLCIL. 
After commissioning of Service Building and major equipment's for NNTPP, Hon'ble Minister appreciated the senior executives and employees of NNTPP for their tireless efforts in bringing the country's First Lignite Based 500MW Power Plant. He appealed to the employees to work hard more effectively & efficiently to ensure Commercial Declaration of two units of NNTPP at the earliest, he added.
Earlier, The Hon'ble Minister and Secretary, Coal, and consultative committee members visited NLCIL Mines, Thermal Projects and Afforestation in Neyveli. The Hon'ble Minister and    Secretary, Coal lauded management and employees for environmental care activities and Initiatives. Also, Hon'ble Minister and Secretary met senior executives and representatives of trade unions and Associations
Posted Date : 07-07-18
Categories : PSU NEWS