WCL, Jhankar Club celebrated annual "Sawan Mohatsav" PSU PRESS RELEASE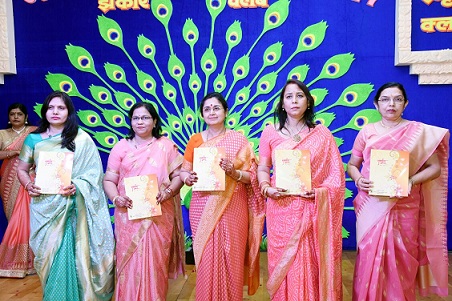 Nagpur: Annual cultural event of WCL, Jhankar Club "Sawan Mohatsav" was celebrated at cultural hall of Coal Estate today with full of zeal and enthusiasm. The function commenced with lighting up of traditional lamp at the hands of President of Jhankar Club Smt. Anita Mishra.
While addressing the associate club members Smt. Mishra said that members of club are our strength. She appreciated various cultural events presented during the programme and said that our club members have done appreciable social service. Housewives of our club have proved that they are not behind and they can do what they want. They are always ready to come forward for the social cause. She added that through "Samarpan" magazine we have showcased the glimpse of works done by Jhankar Club. Smt. Anita Mishra released the special issue of "Samarpan" annual magazine of Jhankar Club. She distributed prizes to the winners of the various cultural event.
Smt. Ruby Mishra, Smt. Reena Kumar, Smt. Anjanaa Jha & Smt. Pragati Labhane were prominently present on the occasion. The guests enjoyed "Sawan Jhula" with traditional Sawan songs. Apart from club members of WCL HQs, Mahila Mandal of areas of WCL presented impressive cultural events, songs and dances. Smt. Rafat Raza of Smriti Club was adjudged Sawan Queen of the year. Winners of the lucky draw were also felicitated.
The welcome address was delivered by Smt Simmi Singh. Programme was organized by Sangini & Smriti Club. The function was conducted by Smt. Veena Nair & Vote of thanks was proposed by Smt. Neera Harwani.Smt. Sangeeta Dass, secretary of Jhankar Club & members Smt. Mausami Sarkar, Smt. Lipika Shrivastava, Smt.Roopa Chakraborty and others contributed in organizing the programme.
Posted Date : 10-08-17
Categories : PSU PRESS RELEASE