WCL organizes Workshop on Preventive Vigilance, Tools of Governance . PSU NEWS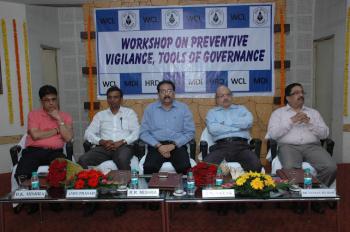 NAGPUR. WCL has organised aworkshop on "Preventive Vigilance, tools of governance" during the week long celebration on Vigilance Awareness Week. Shri R. N. Nayak, OSD,CVC , Delhi was key speaker and Chief Guest of workshop was the Shri Amit Prasad, Financial Advisor, Air-force Maintenance Command, Nagpur

was guest of honour and workshop was presided over by Chairman cum MD of WCL Shri Rajiv R. Mishra.



Shri Mishra explained Preventive Vigilance through an example of red light on road as we need to stop on red light in the same manner, we need to stop before we cross the border line of laid down procedures. Shri Amit Prasad stressed upon strong paper work and said " It is paper that speaks".

During workshop Shri Naik took a detailed session on various aspects of Vigilance and taught the ways of Preventive Vigilance to the participants. Later on a stake holders meet was organized to clarify the doubt of vendor and to create better harmony between government enterprise and vendor. Director(Tech./P&P) Shri B. K. Mishra, Director(Personnel) Dr. Sanjay Kumar of WCL and CVO, MOIL Shri Nitin Chahande, officers from WCL and MOIL was prominently present during the programme.


Posted Date :
Categories : PSU NEWS