Commissioner, Department of Industries Rajasthan visited REIL PSU NEWS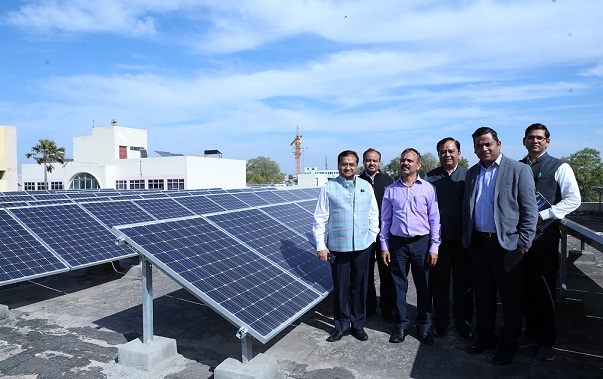 Jaipur: Dr. Krishna Kant Pathak,
Commissioner, Department of Industries, Rajasthan visited 
Rajasthan Electronics & Instruments Limited
(REIL)
premises.
Shri Piyush Paliwal,
Executive Director (Projects), REIL, welcomed the Commissioner and other senior officers of the Company actively participated in it. Executive Director apprised him the products of the Company; Manufacturing, Quality Assurance, Research & Development and Information Technology activities; and operations of the Company in the areas of Electronics, Renewable Energy and Information Technology Sector. 
The Commissioner reviewed the technology of the Company's various tools & infrastructure being used in the dairy industry such as electronics milk testers, automatic milk collection stations, ultrasonic milk analyzer, solar DPMCU, solar street light, solar domestic lighting system, solar water pumping system, solar auto tracker, roof-top solar system and information technology solutions. He lauded the innovations being done by REIL in the field of dairy, solar rooftop system and e-mobility.
The Commissioner emphasized on the implementation of CSR activities in the field of education and health for the development of the society, by implementing their solar projects in association with Department of Industry by giving more importance on aesthetic look while implementing these projects. He reiterated that looking to the presence of a large number of rural mass in the remotest location and geographic conditions in Rajasthan, Solar Energy is one of the important sources of energy and gave assurance for supporting REIL, by the Department of Heavy Industry for its continued use and development in future.
On this occasion, Shri A. K. Jain proposed Secretary to install e-vehicle charging station for the vehicles being parked at Udyog Bhawan, under Fame India Scheme of Government of India and stated that that Company is bringing Information Technology to the rural mass by making aligning with National Objective of Corporate Governance and various missions like Make in India, National Solar Mission, National Dairy Plan, Digital India and Swachh Bharat Mission. He reiterated that the Company is contributing support in Nations' Doubling the Farmer's Income Mission by synchronizing Company's Solar Rooftop Technology with Dairy Business.
Posted Date : 25-02-19
Categories : PSU NEWS