DVC DSTPS Contributes to development of Open Defecation free CSR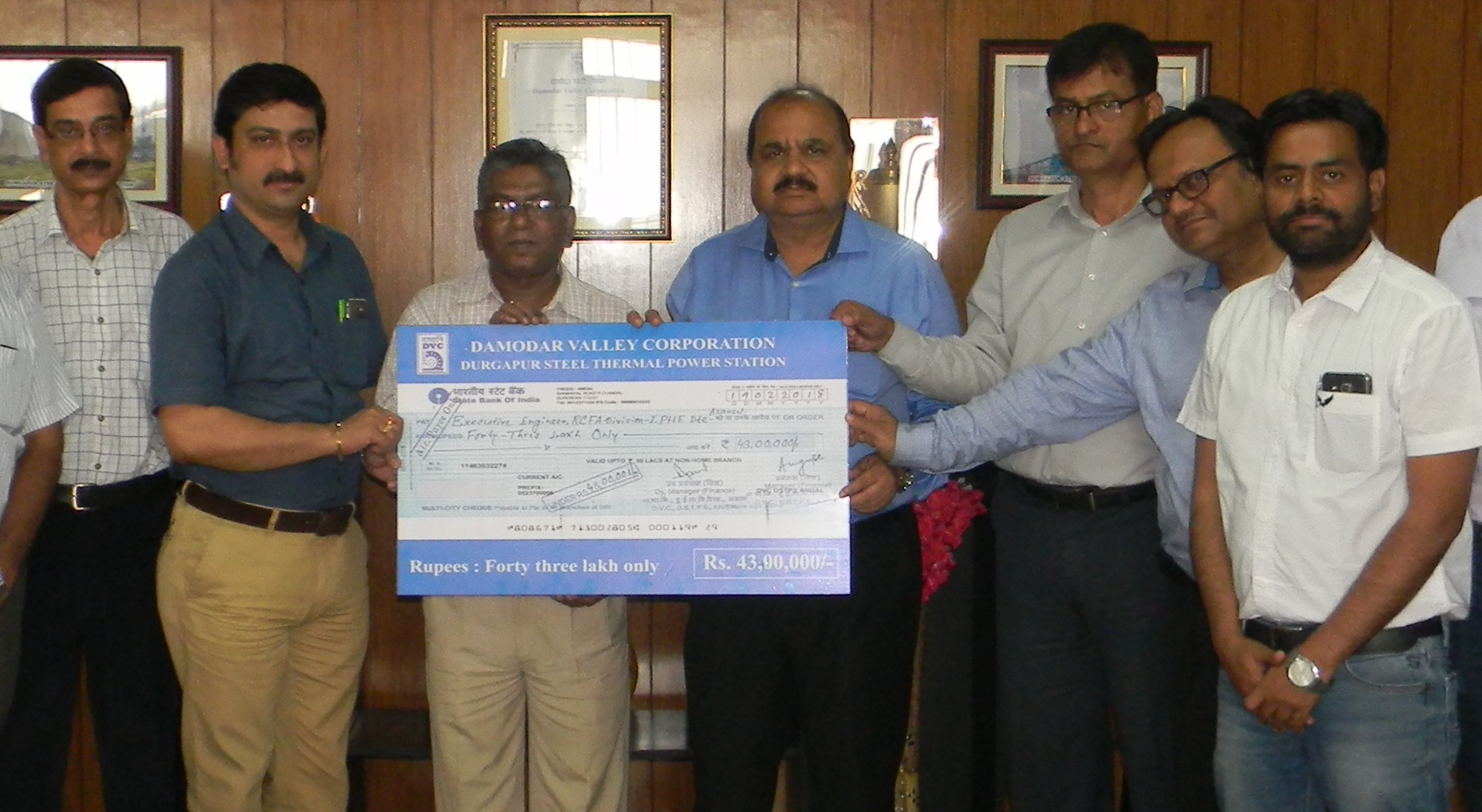 Kolkata: Access to sanitation has attracted more attention in India over the past few years thanks to the Swachh Bharat Mission (Clean India Mission). Launched in 2014, this project seeks to make the country free of 'open defecation' - the practice of defecating outside—by 2019. And easy Access to Individual Household toilet at every household is DVC priority.
DSTPS Andal under its CSR ambit has undergone with an agreement with PHED Asansol, RCFA, Water Supply Circle PHED Asansol for construction of Individual Household Toilet at Srirampur Gram Panchayat of which the project cost is 46.34 Lakh. The amount will be utilized in the construction of 300 Individual Household Toilet in different villages of Srirampur Gram panchayat. After construction of this 300 IHL, every household of the panchayat will be covered under 100% sanitation and the whole panchayat will be read as Open Defecation Free (ODF) Panchayat in a true manner. 
In this connection Chief Engineer & HOP DSTPS Shri S.N Jha, handed over the Cheque of Rs.43 lakhs to Superintending Engineer RCFA, W/S Circle PHED Asansol Shri N.C Basak, Executive Engineer RCFA, W/S Circle PHED Asansol Shri Champak, Bhattacharya on Wednesday 21st of Feb 2018 in the presence of Chief Engineer (Secretariat) DVC Kolkata, Shri A.K Verma, Chief Engineer (O&M) Shri M. Debdas, Sr Joint Secretary (Dev) Shri Biswajit Sen, in a programme at DVC DSTPS conference hall.
On this occasion, Chief Engineer & HOP Shri S N Jha said Sanitation has got a very important role to play in the matter of public health and improvement of the quality of life. But in our country, particularly in the rural areas, the status of sanitation is extremely poor. Ignorance coupled with age-old habits and non-availability of suitable kinds of sanitation facilities among the Villagers are the main reasons for such poor conditions. Durgapur Steel Thermal Power Station Andal unit of  Damodar Valley Corporation under its CSR programme had initiated the DVC Chairman Shri P.K Mukhopadhyay's  dream Project of intensive sanitation programme in the line with Swachh Bharat Mission in the Andal Block area. 
Shri Verma said 100% sanitation in an around village of Project affected area is always DVC DSTPS utmost priority. It is noteworthy that DVS DSTPS has already constructed 495 Individual Household Toilet in different villages of Andal Block and spent nearly Rs.1.8 crores till date under CSR activities.
Md Shamim Ahmad Dy Manager said In this Financial Year 2017-18 one Gram Panchayat Srirampur were adopted under 100% sanitation scheme. In this regard, 300 Individual Household toilet will be constructed in the different areas of Srirampur village by spending around 46.34 Lakhs, and the Construction work will be done through PHED Asansol an expert Government body for the Sanitation Scheme.
During the programme Deputy Chief Engineer (Civil) Shri Subir Saha, DGM (HR) Shri Sandip Bhattacharya, DGM( Finance) Shri Surendra Prasad, Superintending Engineer (Civil) Shri Roshan Lakra, Shri Arun Kumar, Additional Director (HR) Shri Pramod Kumar, Deputy Manager (CSR) Md Shamim Ahmad, Deputy Director (Vigilance) Shri Sachin Champatirai, Officials from DVC Head Quarter and DSTPS plant were present.
Posted Date : 21-02-18
Categories : CSR