PV portal will make every PNBian a Vigilant PNBian BANK NEWS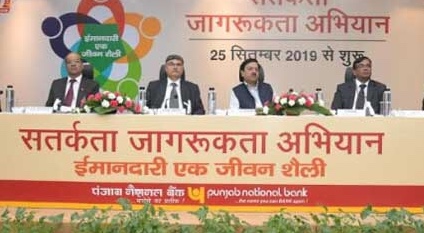 NEW DELHI. PNB Corporate Office, Dwarka has introduced technology based solutions through an online Preventive Vigilance (PV) portal, which is the first of its kind on the occasion of Vigilance Awareness week .The ceremony was chaired by the Central Vigilance Commissioner, Shri Sharad Kumar alongwith Shri P Daniel, Additional Secretary, CVC as Special guest.
The PV portal will facilitate all staff members across the organization to make invaluable contribution to arrest the procedural lapses, unhealthy practices and will usher in coherent climate conducive to the banking for the modern age. This portal will bring in efficiency and promote quality in operations at the forefront and will make every PNBian a "Vigilant PNBian".
Besides other activities, such as inauguration of e-pledge Mission, social outreach through technological platforms for promoting the central theme of "Integrity – A way of Life".
Posted Date : 27-09-19
Categories : BANK NEWS
Tag Cloud: BANK NEWS