REIL Participated in 47th Dairy Industry Conference in Patna PSU NEWS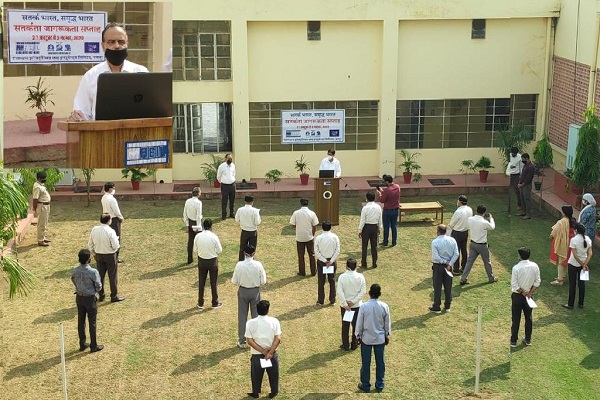 Patna: Shri Nitish Kumar, Chief Minister of Bihar inaugurated the '47th Dairy Industry Conference and Exhibition' organized by Indian Dairy Association (IDA East Zone) in the gracious presence of Dy. Chief Minister Shri Sushil Kumar Modi and Minister of Animal Husbandry & Fisheries Shri Pashupati K. Paras, at Patna. He also inaugurated REIL pavilion and appreciated efforts made by the Company for doubling the farmer's income using the latest innovation and technological merged for their socio-economic growth.
On this occasion
Shri A. K. Jain,
Managing Director,
REIL,
chaired a session on
'Farm Automation and Decision Support System for Precision Dairy Farming
'. During the session, he emphasized on the upcoming technology like IOT and its uses in the dairy sector, benefiting in terms of increasing milk production, bringing transparency in the processes and organizing the dairy industry. He reiterated on creating the database of cattle for monitoring health and feed intake of the cattle. He also thanked the organizers and appreciated for organizing such a large scale event first time in Patna.
On this occasion, REIL showcased its products, aligning with the industry need for procurement, quality and food safety. In the event, Company exhibited the new innovation in the product range such as sensor-based Auto EMT & Next-generation data processor unit and Somatic cell counter. The company also showcased Ultrasonic Milk Analyzer manufactured under Make in India Mission, with the collaboration of M/s Milkotronics, Bulgaria.
Ms. Caroline Emond, Director General IDF, Dr. G.S. Rajorhia, President IDA and various dignitaries from entire country visited REIL pavilion and appreciated the innovation of REIL for Indian dairy industry.
During the second day of the conference, Shri Rakesh Chopra, General Manager, REIL delivered the presentation on 'Reduction of the manufacturing cost of dairy product by using non-conventional energy to compete in the global market' during the technical session.
Posted Date : 13-02-19
Categories : PSU NEWS