RINL Bags Excellent Energy Efficient Award HONOR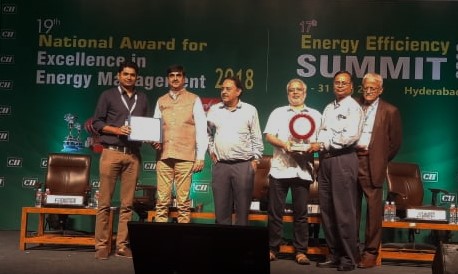 Hyderabad: RINL has been bestowed with 'Excellent Energy Efficient Award' by Confederation of Indian Industry (CII), Godrej Green Business Centre during 19th National Competition for Excellence in Energy Management held at Hyderabad.
The award was given away by Shri Ajay Mishra, IAS, Spl. Chief Secretary, Dept. of Energy, Government of Telangana to Shri T K Dey, DGM (EMD) I/c, RINL along with his team on behalf of RINL-VSP, in the presence of Shri Pankaj Kumar, Secretary, BEE, Ministry of Power at a function held at Hyderabad.
This award has been conferred on RINL for excellent efforts towards reduction of specific energy consumption, Energy Conservation, implementation of Energy Conservation Technologies, Energy Management System (ISO: 50001), Benchmarking, Roadmap to reduce energy consumption and waste recycling, various innovative projects during the year 2017-18. RINL achieved about 5.5% reduction in Specific energy consumption in 2017-18 over the previous year.
Shri P Raychaudhury, CMD, RINL commended VSP collective for the achievement and mentioned that the award truly reflects the commitment of the entire workforce. He exhorted them to achieve international benchmarking in energy consumption, one of the key parameter in the steel making process.
Posted Date : 04-09-18
Categories : HONOR