RINL Observed National Safety Day PSU NEWS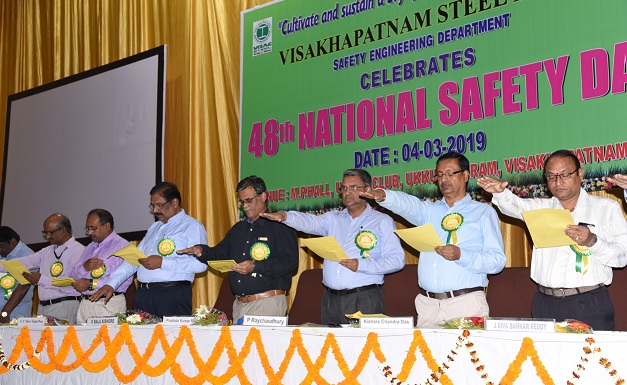 Visakhapatnam: Shri G Bala Kishore, Director of Factories, Govt of AP observed that safety is an ongoing process in human life and behavioural attitude play a vital role in avoiding mishaps in industries and he commended RINL-VSP management and congratulated the entire collection for contributing in achieving zero fatal accidents during 2017 and 2018.
He made this observation while addressing as the Chief Guest at the '48th National Safety Day' celebrations organized by Safety Engineering Dept of RINL at Ukkunagaram. Shri Bala Kishore said that achieving Zero accident rate and sustaining it is a great challenge and mentioned that RINL has the potential to sustain it and called upon the employees to develop a safe work culture to emerge as a model steel plant in the country.  He stated that RINL has the best systems and best safety practices in place to achieve zero accidents. He advised the employees to wear safety gadgets and exhorted them to develop safety consciousness while discharging their duties.
Shri P K Rath, CMD, RINL  said that 60%-70% accidents occur due to behavioural negligence and RINL constantly review and monitor systems and procedures from time to time and bring changes to develop safe work culture. He called upon the employees to make safety a way of life and asked the Safety Engineering Department to conduct special audits and carry out a perception survey to mitigate unsafe conditions. He lauded the Factories Department for their regular guidance and encouraging RINL in maintaining good safety standards in the plant and enabling RINL to comply with legal requirements.
Shri J Siva Sankar Reddy, Joint Chief Inspector of Factories, GoAP said that RINL employees should make safety as a habit and achieve zero accident rate by maintaining good safety standards in the plant.
Shri OR Ramani, Executive Director (Works) I/c  said that RINL achieved a frequency accident rate of .09 in 2018 against the international benchmark of 0.1  is a great achievement.
Shri P Raychaudhury, Director (Commercial), Sri KC Das, Director (Personnel), Sri VV Venugopal Rao, Director (Finance), Sri KBS Prasad, Deputy Chief Inspector of Factories,  Sri Chinna Rao, Inspector of Factories participated.
A safety pledge was administered by the dignitaries and employees to mark the occasion.
Executive Directors, GMs, representatives of Steel Executive Association, unions, SC&ST association and a large number of employees participated.
Earlier, Shri Krishnaiah, DGM (Safety) I/c in his presentation highlighted the safety performance and safety promotional activities on the occasion. Shri J Rajendran, DGM (Safety) welcomed the gathering.
Posted Date : 05-03-19
Categories : PSU NEWS