SCOPE for Effective Corporate Governance in Public Sector SCOPE NEWS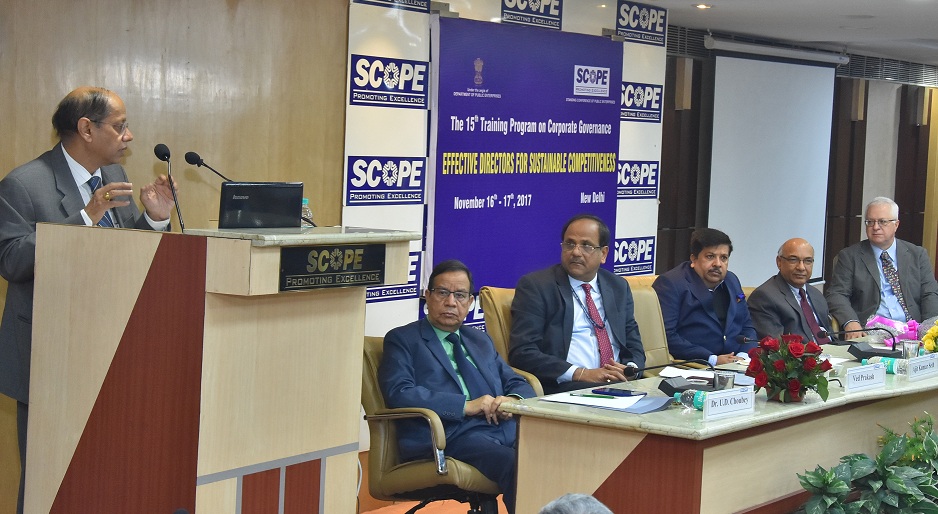 New Delhi: SCOPE conducted the 15th Training Program on Corporate Governance on the theme Effective Board Directors  which was inaugurated by Mr. Ajit Kumar Seth, IAS (Retd), former Chairman, Public Enterprises Selection Board (PESB) and former Cabinet Secretary. Dr. Madhukar Gupta, IAS, Additional Secretary, DPE as Guest of Honour  delivered the special address.  Mr. Ved Prakash, Chairman, SCOPE & CMD, MMTC, Dr. U.D. Choubey, Director General, SCOPE and lead resource persons Prof. (Dr), Y.R.K. Reddy and Mr. Peter Greenwood  also addressed in the inaugural session.
Inaugurating the programme,  Mr. Ajit Kumar Seth, former Chairman, PESB said that Corporate Governance has taken centre stage and engaging them proactively with stakeholders has become important. Talking about the role of Board, Mr. Seth said that nurturing consistent corporate culture based on human capital remains supreme.
Mr. Ved Prakash, Chairman, SCOPE and CMD, MMTC in his address said that the Government has introduced revolutionary schemes such as GST, Digital India etc. and India surely would be at the forefront of the world economy. Talking about the role of PSEs, Chairman, SCOPE added that PSEs would continue their significant role in implementing and promoting the Government's policies.
The Guest of Honour, Dr. Madhukar Gupta,  Additional Secretary, DPE in his special address said that role of private sector is mainly making profit, but PSEs have twin role of marginal profit and corporate social responsibility.. Dr. Gupta complimented SCOPE for organizing the programme.  
Dr. U. D. Choubey, Director General, SCOPE in his welcome address said that post-recession has resulted in consolidation of sovereign holding of the capital. State assets have increased worldwide. DG, SCOPE added that there is a need for the developing competency of  Directors so as to have cohesiveness in decision making process, based on best practices in  Corporate Governance. Dr. Choubey emphasized the need of independent Board under one entity in Sovereign Holding Company.
Posted Date : 15-11-17
Categories : SCOPE NEWS