SCOPE's Programme on Better Investor Relation Strategy in PSEs SCOPE NEWS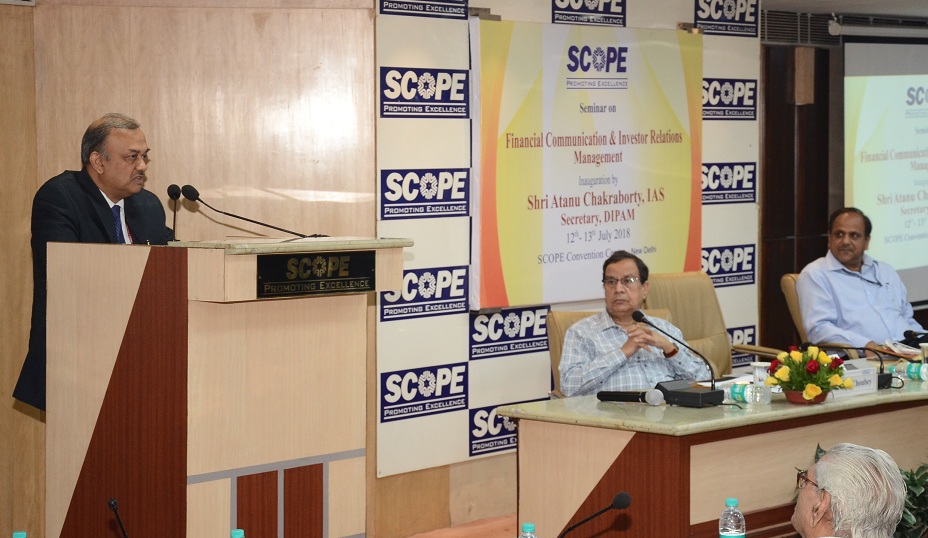 New Delhi: SCOPE organized a Seminar on 'Financial Communication & Investor Relations Management'. Shri Atanu Chakraborty, IAS, Secretary, DIPAM, inaugurated the program. Secretary, DIPAM also released the special issue of Kaleidoscope on the theme of the seminar.
While inaugurating, Mr. Atanu Chakraborty, IAS, Secretary, DIPAM complimented SCOPE for building capacities of PSE executives in the important area of investors relations and financial communications. He advised that organisations need to share maximum information as it will create trust and a better brand of the PSEs. 
Mr. Ved Prakash, Chairman, SCOPE & CMD, MMTC Limited while highlighting the importance of investor relations, advised PSEs to have a written IR strategy and manual to support better preparation of an IPO and to help ensure regulatory compliance.
Dr U.D. Choubey, Director General, SCOPE emphasized for the creation of a Sovereign Holding Company to create value for the government through investments not only in domestic market but also in the international markets. Such a review of disinvestment policy could mobilize large financial resources than from disinvestment proceeds presently.
Prof. Jaishri Jethwaney of ISID and Program Director gave the program perspective of the Seminar.
Posted Date : 12-07-18
Categories : SCOPE NEWS