Capacity Building Programme on Renewable Energy Grid Integration HONOR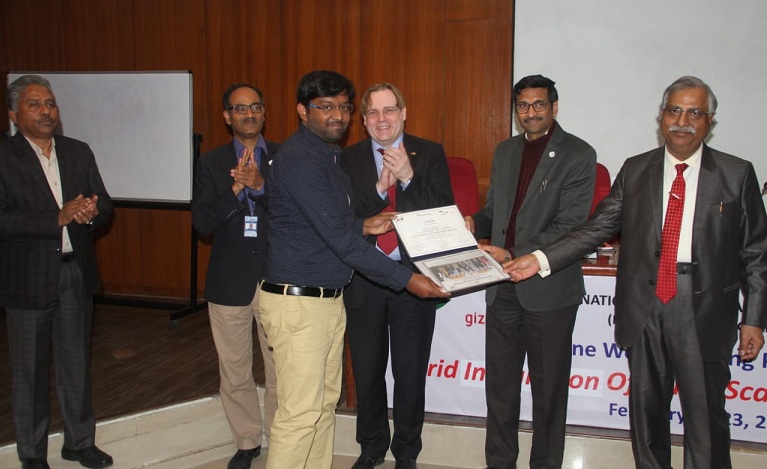 New Delhi:
 A capacity building program on 
'Renewable Energy Grid Integration'
 was conducted for '
Power System Operation Corporation (POSOCO)'s
 Engineers with a focus on enhancing the grid operators' technical, policy, regulatory and market skills in handling the integration of larger share of Renewable Energy into the Grid.
The teaching methodology for this training program was a blend of online and classroom training. Completing the online course was a prerequisite to being eligible to attend the classroom training. Over 90 participants from POSOCO qualified for this course in November 2018. The first classroom training was scheduled from Feb 18-23, 2019 at 
National Power Training Institute (NPTI),
 Faridabad.
This course was organised in association with
Deutsche Gesellschaft für Internationale Zusammenarbeit (GIZ)
and a consortium of German experts & universities. This is a combination of online course followed by a classroom interaction with eminent experts. These efforts are made to enable operators to acquire a specialist certification in RE Integration and successfully operate REMCs.
On successful completion of the classroom training, the participants were awarded certificates by Shri K.V.S. Baba, CMD, POSOCO. Shri S. R. Narasimhan, Director (System Operation), POSOCO, Professor Dr. R. K. Pandey, DG, NPTI and Dr. N. V. Kumar, Director (Training/R&D), NPTI were also present during the session.
Posted Date : 27-02-19
Categories : HONOR