SJVN Nathpa Jhakri Hydro Power Station Achieved 100 Billion Units Electricity Generation PERFORMANCE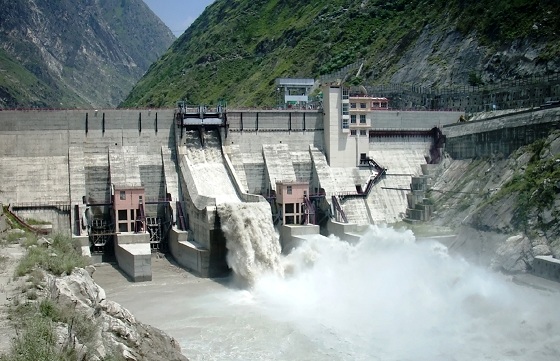 Shimla: 
A historic feat was achieved at the country's largest Nathpa Jhakri Hydro Power Station today when the public sector 
SJVN Limited's
 flagship hydro station in Himachal Pradesh crossed a cumulative 100 billion units electricity generation today on 22nd February.
Shri Nand Lal Sharma, Chairman & Managing Director of the company told that the power station, which is designed to generate 6612 million units of electricity every year in a 90 per cent dependable year has all through been operating at more than 100 % plant availability factor and generating much more than the designed capacity year after year. The highest annual generation achieved, he informed was 7610 million units in 2011-12.
The power station, rightly acknowledged as a 'Marvel of Civil Engineering' by the World Bank had been fully commissioned in the year 2004. The power station, Shri Sharma informed, is endowed with many features unparalleled in the World and its successful implementation and operations had opened many vistas of expansion, diversification and business growth for the company. The Power station, he told, has the World's most voluminous desilting chambers (four chambers each 525 m long x 27.5 m deep x 16.31 m wide), one of the longest 27.39 km long headrace tunnel, one of the deepest 301 m surge shaft and one of the largest underground powerhouse complex.
Talking about the phenomenal returns grossed by the power station since coming into commercial operations in 2004, Shri Sharma told that the 1500 MW Nathpa Jhakri Hydro Power plant had been implemented at a cost of Rs.8187 crores, and over the years has earned substantial revenues not only for paying back to the shareholders but also funding its other upcoming projects. The revenues earned, he told had not only added substantially to the company's net worth which today stands at Rs.10695 crores, but also to its reserves at Rs. 6764.91 crores. On these earnings, Shri Sharma informed that the company had also paid back fruitfully to the shareholders. The major shareholder Government of India has been already paid a total dividend of Rs 3889.4 crore on an investment of Rs.3081.6 crore while the Government of Himachal Pradesh holding 26.85 & of the equity has been paid a total dividend of Rs1485.06 crores against an investment of Rs1055 crore, he informed. The company which went public with an IPO in 2010 has also been paying substantial dividends to the public shareholders.
Congratulating the company employees on the occasion Shri Nand Lal Sharma termed the 100 billion mark of power generation as a historic occasion and a 'Golden Letter Day' in the history of not only SJVN but in the hydropower sector of the country. This magnificent achievement of SJVN, he said, had established a benchmark for the entire industry in the times to come.
Since 2003, the power station has been supplying power to Haryana, Punjab, J&K, Utttarakhand, Uttar Pradesh, Delhi, Rajasthan, Chandigarh and Himachal Pradesh and lighting millions of homes, energizing thousands of industries and tube wells bringing prosperity to the northern region states.
Shri Nand Lal Sharma informed that SJVN, today is operating two hydro power stations in Himachal Pradesh aggregating 1912 MW, two wind power project of 100 MW capacity in Maharashtra and Gujarat, and one solar power plant of 5 MW capacity in Gujarat besides a power transmission line on Indo Nepal border. The company, he added, is in the process of implementing 12 power projects of a total capacity of 4798 MW which are under different stages of construction.
Not only in financial terms and in terms of power generation, the Nathpa Jhakri Hydro power station has triggered industrial, agricultural and commercial investments in the beneficiary states and opened up the hinterland Jhakri on the World map and transformed the lives of thousands of people living in the vicinity of the project. The availability of quality education, health care and community development activities has brought about a sea change in their lives with the generation of employment, skill development, empowerment and social upheaval.
Posted Date : 22-02-19
Categories : PERFORMANCE
Tag Cloud: PERFORMANCE