Hindustan Aeronautics to power its airport facility with solar energy power-sector-news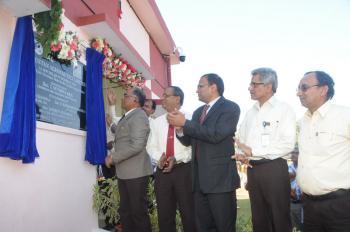 Bengaluru: State-run Hindustan Aeronautics Ltd (HAL) has set up a 3.5-megawatt solar energy project to power its airport facility in the eastern suburb of this tech hub, said the defence behemoth on Friday.
"The Rs.25-crore project will enable us to use solar energy and reduce dependency on conventional sources to power our airport facilities, including the Light Combat Aircract (LCA) Tejas production complex," HAL said in a statement here.
"The renewable solar project is an example of promoting climate protection and conservation of resources for meeting our energy needs," said HAL Chairman and Managing Director T. Suvarna Raju unveiling the facility.
The Gurgaon-based Amplus Energy Solutions, which bagged the order through a competitive bidding, has set up the project on turnkey basis at the HAL airport used for military aircraft test flights, VIP aircraft and charted services.
Posted Date : 24-12-16
Categories : power-sector-news
Tag Cloud: power-sector-news