MCL Coal Supply to Power Sector Growth by 9 Percent to 75.41 MT at End of Q3 PERFORMANCE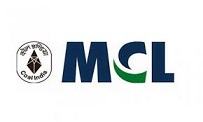 Sambalpur:
Coal supplies to power sector from
Mahanadi Coalfields Limited
(MCL) were up by nine per cent to
75.41 Million Tonnes
at the end of third quarter of the current financial year, as against 69.29 Million tonnes dry fuel dispatched to power utilities during the same period last fiscal.
MCL Limited has supplied a Record 104.6 Million tonne to the consumers in the first three-quarters of current fiscal, up by 3.5 per cent as against 101.1 million tonnes dispatched during the same period in the financial year 2017-18.     
Despite being challenged by several bands and other obstructions in its coal mining operations, MCL has been successful to increase coal supplies to the consumers, particularly the power generators.
An active support from railways and proper coordination between the two organisations have been the key factors in ensuring an increase in the supply of coal to consumers from MCL mines.
As a result of operational synergy with railways, MCL had dispatched 18076 rakes of coal at the end of Q3 of current fiscal, up by 4.4 per cent against 17311 rakes during the same period in the previous financial year.
MCL has already crossed 99 million tonnes coal production yesterday. However, due to bandhs in coalfields areas and regular obstructions by locals in the mining operations, the company is struggling to increase the coal production to achieve the targeted figures.  
The company is geared up for 'peak production' period of remaining three months of current fiscal. If the business operations remain undisturbed, MCL will record new milestones in its history of coal production and supply at the end of current financial year.
Posted Date : 04-01-19
Categories : PERFORMANCE
Tag Cloud: PERFORMANCE