IndianOil Collaborates with Tata Motors to launch 'Saarthi Aaram Kendra' for driver welfare in India MOU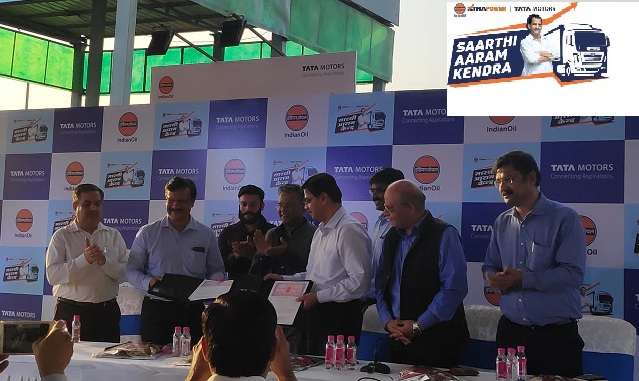 New Delhi:
Indian Oil Corporation Ltd.,
India's largest downstream Petroleum company, in conjunction with
Tata Motors,
India's largest commercial vehicle manufacturer, has launched an innovative industry-first driver welfare initiative -
'Saarthi Aaram Kendra'
for the betterment of the driver community. The initiative provides pit stops for drivers to rest thereby improving their physical and mental well-being. The first of many 'Saarthi Aaram Kendras was inaugurated' at Bawal, yesterday on 30th May 2019, Rewari which is located on India's busiest National highway-NH8.
Driver welfare and safety has always been the foremost priority for IndianOil and Tata Motors – right from designing trucks to providing tailored value-offerings for their overall wellbeing. The Saarthi Aaram Kendra is a step towards recognizing the efforts of commercial vehicle drivers and giving them access to basic amenities 'on the go'. 
IndianOil has developed chain of Large Format RetailOutlets and Petrol Pumps on major national and state highways focusing on state of the art driver amenities provided exclusively for drivers which is in addition to fueling of vehicles. The various facilities includes Driver Rest Room with CCTV display, Wi-Fi, TV, Lockers, Coolers etc., Dhaba, Self Cooking area, Secured parking with CCTV Camera, Laundrette, Toilet block, open Bathing facility with Houda, Doctor's on call, en route road assistance on call, Barber shop, Clean drinking water, heavy duty air gauge. The facility has been comprehensively designed to offer an end-to end solution and comfort  to long route drivers.
IndianOil through its Large Format ROs and 'Sarai' has ensured comfort to Long distance drivers. Regular eye Check Ups with name 'Ujala', Trainings on Safe Driving practices, Distribution of Driver Kits are few initiatives IndianOil has taken up for welfare of Drivers.
IndianOil also organizes eye & health checkup camps from time to time on these premises free of cost. At selected retail outlets of IndianOil, training on Safe driving habits, hygiene and health is also imparted free of cost.
Similarly, Tata Motors even offers comprehensive solutions for driver's economic, social and health betterment under the banner of 'Sampoorna Seva'.
Two major brands hereby come together to take care of needs of Drivers and providing them state of the art facilities en route through 'Saarthi Aaram Kendra.'
Speaking on the occasion, Shri Vigyan Kumar, Executive Director (Retail Sales), IndianOil, said, 'IndianOil has always pioneered in taking various driver centric initiatives at most of its highway retail outlets. Saarthi Aaram Kendra is another such unique initiative taken in this direction to cater the daily needs of commercial vehicle drivers in more efficient manner which will provide a feeling of homestay to them at our RO's. This will help them performing their duties in more efficient manner. IndianOil and Tata Motors have been in long association in successfully partnering various business tie ups and this new joint initiative on driver welfare activity will further improve their goodwill towards drivers community.' 
Commenting on the initiative, Shri Girish Wagh, President - CVBU, Tata Motors Limited, said, 'At Tata Motors, ensuring road safety and providing comfort to the truck drivers is of utmost importance. Saarthi Aaram Kendra is an initiative to improve the working conditions of commercial vehicle drivers and provide them with an environment wherein they can easily access their daily needs. This will help the drivers de-stress after a long journey and thereby improve their efficiency. In the initial phase, around 100+ drivers will benefit every day at this facility, which will be scaled up gradually. We are proud to associate with Indian Oil Corporation Ltd. In this initiative to improve well-being of the truck drivers.'
Posted Date : 31-05-19
Categories : MOU