National Award to NCL in-house Journal 'NCL Panorama' HONOR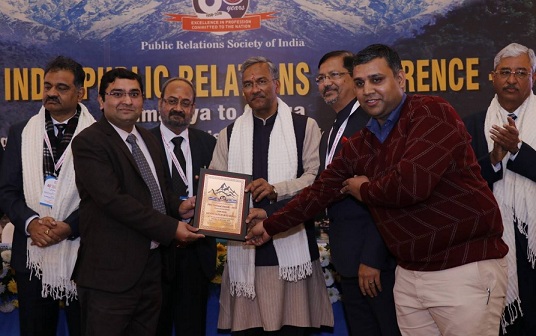 Dehradun:
Northern Coalfields Limited 
NCL has bagged a national award for its in-house journal '
NCL Panorama
.'
The Public Relations Society of India
(PRSI), the largest body of Public Relations practitioners in India, has conferred the awards on NCL.
Shri Trivendra Singh Rawat, Chief Minister of Uttarakhand presented the awards in the inaugural ceremony of 40th All India Public Relations Conference organised in Dehradun on Saturday. The  General Manager (Personnel/ CC & PR) Shri Udit Pratap Narayan, the Public Relations Officer  NCL, Shri Siraj Kumar Singh and the Assistant Manager (Community Development/CC & PR) Shri Vineet Yadav received the awards on behalf of the company.
Chairman & Managing Director NCL, Shri Prabhat Kumar Sinha along with Functional Directors congratulated Team CC & PR (Corporate Communications & Public Relations) and expressed hope that the team will continue with the same vigour.
NCL Panorama features thematic cover stories which convey a broader outline of the company in reference to the theme. The journal also encompasses pictorial updates and official news thereby keeping the internal and external stakeholders abreast of the newest happenings of the company.
The 40th All India Public Relations Conference is being organised on the theme of 'Himalaya to Ganga-Pride of the nation'.  More than 300 organisations from public and private sectors are participating in the conference from across the country. The PRSI National Conference is often referred to as 'Mahakumbh' of PR practitioners of the nation.
Posted Date : 10-12-18
Categories : HONOR