NCL Launches Annual Summer Camp 'Aarohan-2019' PSU NEWS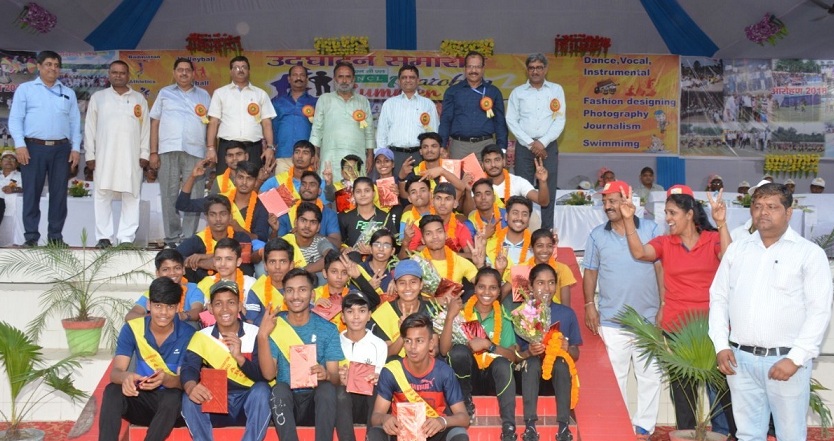 Singrauli:
Northern Coalfields Limited (NCL)
launched its annual grand summer camp '
Aarohan-2019'
on 15th May 2019.
Shri N.N. Thakur, 
Director (Finance and Personnel), NCL graced the occasion as Chief Guest.
Shri Rajiv Kumar,
GM Jayant,
Shri Charles Juster,
COP & GM (P), JCC Member
Shri P. K. Singh
and
Shri Ashok Dubey,
General Secretary of CMOAI
Shri Sarvesh Singh
and members of Sports Promotion Board
Shri Khushaal Singh
and
Shri Parcham Prasad
were present as guests of honour.
Addressing the function, Chief Guest Shri Thakur said that it is a matter of pride for NCL that the company is organizing such a grand summer camp for not only children of its employees but also for children living in and around operational areas of NCL. Describing the organization of camps as a golden opportunity for children to brush up their sports and other talents, Shri Thakur appealed the children to make full use of their summer vacations. He also hoped that the children will bring glory to their families in international and national forums in the coming time.
Representatives of officers' and trade unions thanked NCL management for organizing such grand program like 'Aarohan' for all-round development of children. The talented children who had performed excellent at the national level in various sports after being trained in Aarohan summer camp last year were also honored at the function.
The Under-19 free of cost summer training camp, which is specially organized to brush up the overall talent of local school children and youth, is special in many ways this year. The camps for dance, musical instruments, Fashion Designing, Journalism and Photography, Swimming, Painting and Skating have been added for the first time. Additionally, camp participants are also able to take training of very popular sports Cricket and Football along with Badminton, Athletics, Table Tennis, Kabaddi and Volleyball this year.
The training for Badminton is being provided in NCL Headquarters, Jhingurda, Bina and Nigahi while for Athletics, the children are being trained in Nigahi, Jayant, Bina and Block-B. Similarly, Table Tennis training is running in Khadia, Jhingurda and Bina whereas Kabbadi training in Kakri and Nigahi. Volleyball training is being provided in NCL Headquarters, Bina and Dudhichua and Football training is provided at Jayant, Bina, Amlohri and NCL Headquarters. Training for Cricket is being provided in Nigahi, Bina and NCL Headquarters. Dance and vocals training are to provided in NSC, Jhingurda, Amlohri and Kakri, Fashion Designing in CWS, Journalism and Photography in Nigahi and Khadia, Swimming and Skating in Jayant and Painting and craft training in CWS Jayant.
Posted Date : 31-05-19
Categories : PSU NEWS