SCOPE and S.P. Jain Institute Joins Hand for Developing Leaders in PSUs SCOPE NEWS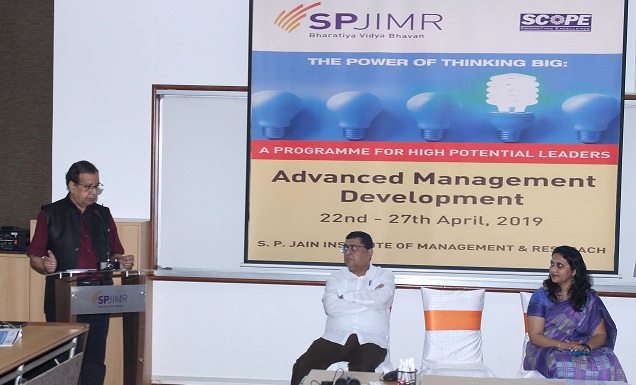 Mumbai: SCOPE in collaboration with S.P. Jain Institute of Management & Research (SPJIMR) organized six-day Advanced Management Program from 22nd April to 27th April, 2019 in Mumbai. The theme of the program was 'The Power of thinking big – Program for High Potential Leaders'.  It was inaugurated by Dr. U.D. Choubey, Director General, SCOPE in the presence of Prof Preobroto Ganguly, Officiating Dean and Head (Human Resources), SPJIMR and Prof. Vanita Bhoola, Head (Project Management and MDP), SPJIMR. Large number of participants from PSUs attended the programme.
Dr. U.D. Choubey, Director General, SCOPE while addressing the participants said that the biggest trait found in a leader are honesty, transparency, responsiveness, courage and conviction. In this regard, he cited the example of  legendary figures such as Mahatma Gandhi, Chanakya and Lee Kuan Yew, for  their leadership qualities. The session is highly interactive with highly learned faculty of SPJMIR.
Posted Date : 23-04-19
Categories : SCOPE NEWS