SCOPE Organized Programme for better Risk Management in PSEs SCOPE NEWS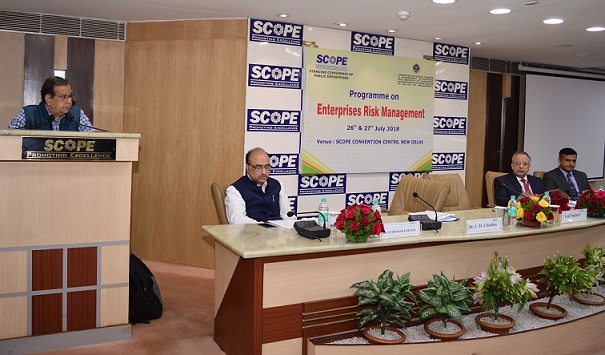 New Delhi: SCOPE
in collaboration with ICAI organized a two-day program on
Enterprise Risk Management
to help PSEs perform optimally by ensuring effective reporting and compliance with laws and regulations. 
Dr. U.D. Choubey,
Director General, SCOPE inaugurated the program in the presence of
Mr. D.S. Sudhakar Ramaiah,
CMD, PDIL & Member, SCOPE Executive Board,
Mr. V. Sagar,
Secretary, ICAI and
Mr. Vinay Kumar Saini,
Asstt. Professor, MAIT, ICAI.
While inaugurating, Dr. U. D. Choubey, DG, SCOPE said that risk management has gained prominence in the corporate world today. Talking about the uncertainties involved with risk, Dr. Choubey said PSEs need to be proactive to manage risk in order to ensure sustainability.  He mentioned that stakeholders today are not only looking for larger profit but intangible factors like risk management, risk assurance and risk advisory role. He advised PSEs to have a specialized department drawn from different disciplines to identify, quantify and manage the risk.
The program was attended by large number of executives from the Public Sector.
Posted Date : 26-07-18
Categories : SCOPE NEWS