Shri Rana S. Chakravarty Director Marketing Hec awarded with prestigious Eminent Engineer Award HONOR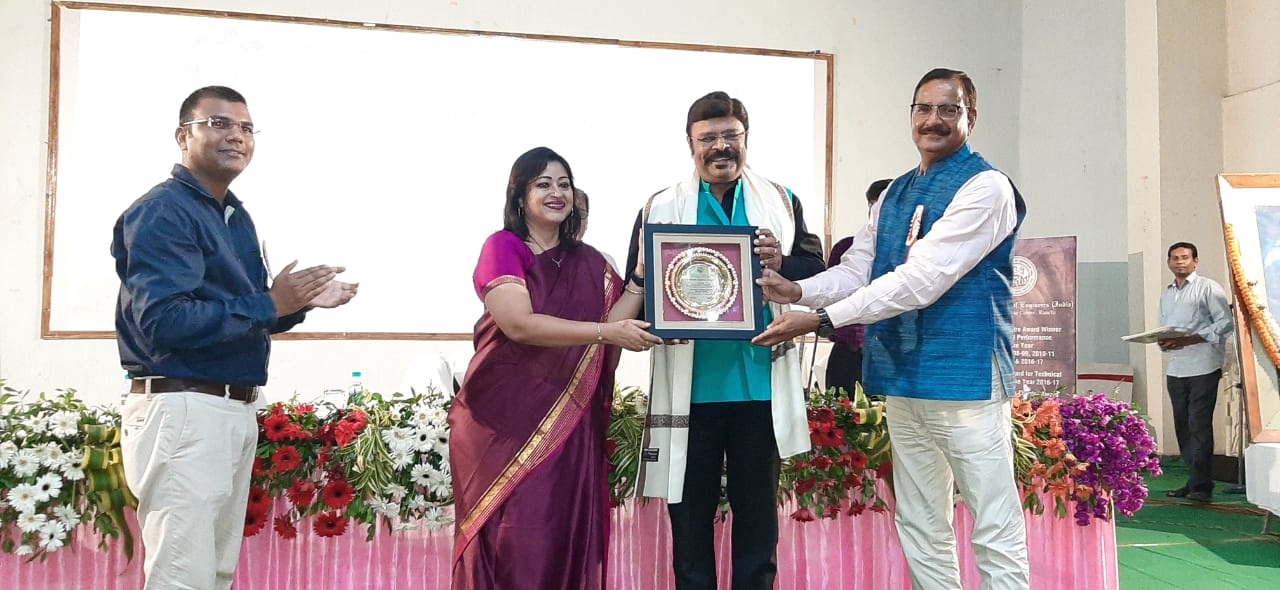 New Delhi. Shri Rana Subhasis Chakravarty Director Marketing and Production,  HEC  has been awarded the prestigious "Eminent Engineer Award"by the Institution of Engineers Jharkhand State Centre on the 52nd Engineers Day celebration. This award was given to Shri Chakravarty for his Marketing turnaround of HEC wherein he and his Marketing team have bagged orders which is highest in the last 8 years.
Shri Rana S. Chakravarty is graduated in first class with distinction from BIT Mesra in Mechanical Engineering later he pursued Diploma in Management from IGNOU and subsequently MBA, First Class, in Marketing from BIT Mesra.
His passion of studies has driven him into registering himself for PhD in the field of "Challenges and Opportunities of Corporate Social Responsibilities in Public Sector" in the year of 2015 which is in the final stages of completion as the thesis has already been submitted this year.
He is also the recipient of the 'Vishweshwaraya Gold Medal' from the Institution of Engineers (India) for the Technical Paper on "Role of Power Sector in achieving Energy Security of India". He has also presented Technical papers in the field of Environmental Engineering, Marketing & Management and Industry 4.0 in India and abroad.
He has been elected as Member of Executive Board of "SCOPE: Standing Conference of Public Enterprises" on 28th March, 2019 for which he feel honored as he believes that it gives him an edge to move ahead keeping the Vision & Mission of this Apex Body in mind and applying it in the current scenario of working.
He got selected for training in ERP Package through CICC for a period of Three and a half month in Japan and also for training in EMS ISO 14001 in Indonesia through APO (Asian Productivity Organization).
He has also served Institution of Engineers India (Jharkhand State Centre) as Secretary for tenure of 2 years from 2002-2004 where he has put his sincere efforts to bring radical changes in IEI.
His responsibilities for the organization have not kept him apart from social services as through the post of Secretary of "Cheshire Home India Ranchi" for past 19 years, he has been continuously working for the upliftment of the society and shall continue to do so.
He has more than 32 years of service experience in one of the premier engineering, consultancy and contracting organization, MECON Limited, wherein, he grew and honed his Technical, Managerial and Administrative Skills and climbed up the ladder to the Head of Infrastructure Division.
As General Manager (Corporate Infrastructure Division), MECON, his responsibility spread over Business Procurement, Engineering, Project Management, Marketing, framing and execution of Contract.
He was a part of the management team for formulating strategies and projecting road map of MECON.
His domain expertise from Environmental Engineering to Project Execution, Project Head to Marketing Function to Infrastructure Business Head has given him experience in all facets of Engineering and Project Management.
His present assignment as Director (Marketing), HEC, is equally challenging. During these 19 months in HEC, he believes that he has enjoyed full support of the Board of Directors resulting in the inaugural entry of HEC in the railway business for manufacturing of Track Maintenance Equipment and bagging orders to the tune of approximately INR 500 Million.
The company on the basis of its metallurgical achievements and under his leadership got the prestigious B11 order for Indian Navy value INR 4360 Million. HEC has become only indigenous entity to supply special, ultra clean forgings under the program of 'Make in India' for reactor pressure vessel providing import substitution.
With hard work and continuous interaction he is able to make ISRO, as one of the prestigious customers for HEC by bagging an order of INR 300 Million for Horizontal Sliding Doors and Platforms. In the same line with his dedicated team on his side he was successful in getting a project from VIZAG Steel worth INR 1460 Million for the Augmentation of the raw material preparation area for revamping and up gradation of SM1&2.
In pipeline there are orders worth INR 200 Million for steel sector in Rolls and Slag pots, INR 800 Million from Vizag Steel for the project of "Conveyor & Allied Equipment for second IOSA & RMHP" and orders for spares in Mining sector touching value upto 150 Million.
This year with aggressive marketing strategy under his command, HEC has broke the record of past 8 years in terms of order booking achieving 118% of the target set by ministry as per MOU even before the end of Q2.
In the month of March'19 and in the presence of Chairman CIL, they have inaugurated HMB-15 Dragline Project "AGNI" which is one of esteemed projects for HEC and in successful run.
He has always try to mould himself as per the changing needs of the customers in that view they are soon going to launch a new state of the art indigenously designed and manufactured Hydraulic Shovel of capacity 5CuM.
In order to move ahead with the changing technology, varying customer need and giving long-term sustainability to the organization this has been his continuous effort to put HEC in a pathway of technological tie-ups with other companies. He feels blessed to have a dedicated team on his side which has worked very hard towards realization of this vision. In nuclear sector they have recently signed an agreement with their Russian Partners for Nuclear Power Plant Equipment; in the area of Mining they have signed a pact with BEML for joint manufacturing of Walking Dragline and higher capacity shovel. Aligning themselves with "Make In India" concept to strengthen the country HEC jointly with Mazagon Dock Limited is exploring to indigenize manufacturing of propeller shafts for warships of the Indian Navy. In addition to that HEC is also exploring to venture into new product line such as Armored Vehicle, Bullet Proof Jacket and Electric Charging Station and in talks with M/s LIOR and M/s Shladot based in Israel.
Since the day of his joining in HEC it has been his focus that he could centralize the whole Marketing Division under one roof for the smooth functioning which got realized in the Month of January this year. He always keeps open the two way channel for his employees for the seamless ideas to flow and with his support they are aligning themselves into various new streams of businesses such as dedicated products for Indian Army, power sector etc.
He continuously strives to take the organization and its people to the new heights and put them on the pathway of sustainable development for a long run.
Posted Date : 15-09-19
Categories : HONOR