Vice President of India Inaugurates GRIDTECH-2019 PSU NEWS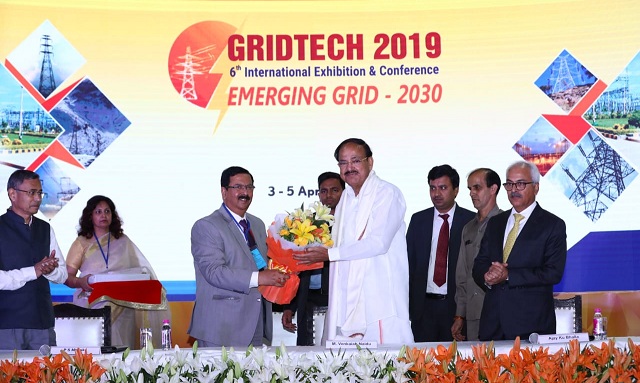 Addressing the gathering Shri Naidu said, 'Events such as GRIDTECH 2019 provide an opportunity for Power System professionals in Industry & Academia to exchange ideas & deliberate on environment-friendly solutions to overcome the challenges faced by the sector. It is an excellent platform for the evolution of new ideas in the energy sector through brainstorming by seasoned professionals. I am glad that it also has a Student Pavillion & I hope this will give the young students an opportunity to show-case their own innovative ideas.'
The three-day exhibition is showcasing new technologies in Transmission, Distribution, Renewable Integration, Smart Grid, Communication etc. The exhibition and the concurrent summit saw a large number of exhibitors, utilities, policymakers, regulators, investors, academicians, visitors and dele-gates who made use of the excellent global networking opportunity and experienced the state-of-the-art power technologies and equipment of future Transmission, Distribution, Smart Grid infrastructure.
The first conference of this event focused on 'Latest Technologies in Transmission, Distribution, Smart Grid and Communication'. The second parallel conference is on 'Integration of Renewable with Synchronous Grid' being held on 3rd-4th April 2019. With the aim of facilitating progressive adaption of emerging technologies in the power sector in India, POWERGRID has successfully organized five editions of GRIDTECH in 2007, 2009, 2011, 2013 and 2015.
In an endeavour to encourage young and talented students' community towards innovation, a dedicated 'Students' Innovation Pavilion" was organized for the demonstration of working models from students of various technical institutes. 
It would motivate young students and also offer a platform for industry-student interaction. About 30 student teams from 17 technical institutes across the country are showcasing their innovative working models' projects and competing for recognition and cash prizes amounting to Rs. 10 lakhs.
On this occasion, Shri A.K. Bhalla, Secretary (Power) Ministry of Power, Government of India, along with Shri Ravi. P. Singh, CMD (POWERGRID) welcomed Vice President of India. Also present on this occasion were senior officials from Ministry of Power, MNRE, CEA, CERC, SERC, Central & State Government officials and other Power PSUs, private sector companies, experts from academic institutions, consultants etc. 
Posted Date : 03-04-19
Categories : PSU NEWS