Cmde B B Nagpal Assumes charge as CMD, GSL NEW FACES IN PSUS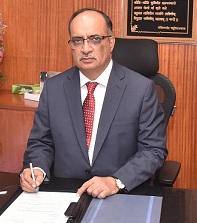 Vasco:
Cmde B B Nagpal,
NM (IN Retd) has taken over as Chairman & Managing Director of
Goa Shipyard Limited
(GSL) with effect from 01 December 2018 from
RAdm Shekhar Mital NM
(IN Retd), who demitted the chair on superannuation on 30 Nov 2018, having rendered a yeomen service for the last 4 years & 10 months.
Cmde Nagpal is an alumnus of Sainik School Bhubaneswar, IIT Delhi and Naval War College, St Petersberg, Russia. He has more than 32 years of distinguished service and experience in the Indian Navy as a Naval Architecture Officer before joining GSL as Director (CPP&BD) in Aug 2016. He has vast experience in large shipbuilding projects like Destroyers and Corvette and has been Project Director for the design of many front-line warships in the Navy. He has also held the coveted Post of Principal Director of Naval Design at IHQ MoD (N), besides other appointments at Naval Dockyard and Shipbuilding yards providing the wide spectrum of experience in refits and shipbuilding.
GSL has created an enduring culture of delivering quality ships before contractual schedules and today is on a strong foundation for future projects. Cmde Nagpal aims to further consolidate GSL's production performance and will be carrying forward the Advanced Missile Project to commence production by mid-2020. Besides, he has the agenda cut out to take the MCMV case forward for early conclusion of commercial aspects of the case. Further, he would look to further expand the diversified portfolio of the Company and adopt most advanced technologies required to develop advanced systems and platforms for the future requirements of defence forces such as Unmanned platforms and AI enabled systems.
The Officer is known for his execution capability and will leverage the brand image & performance of GSL over last few years to ensure exponential growth. He is known to take keen interest in sustainable growth & corporate social responsibilities to add value to the community at large.
Posted Date : 29-11-18
Categories : NEW FACES IN PSUS