Fly Ash transported from NTPC Rihand to Dadri PSU NEWS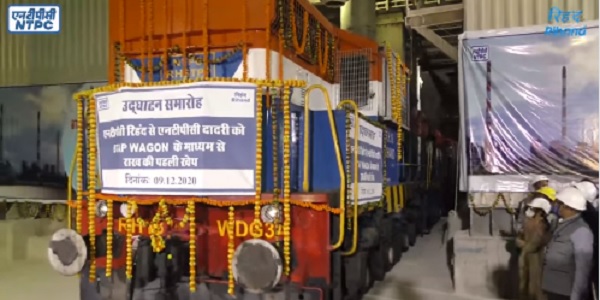 New Delhi: First time in the history of NTPC, Fly Ash is being transported through BTAP wagon from NTPC Rihand to NTPC Dadri. NTPC Dadri will sell fly ash to potential buyers like cement industies, Brick manufacturing Industries.
NTPC thrives to explore and establish new avenues of ash utilization. NTPC Rihand has procured 03 rakes of BTAP Wagons for transportation of fly ash to the users located distantly from Rihand in environment friendly manner. Fly ash has been sent via BTAP Wagon to Dadri from use by potential buyers of fly ash like cement industries, brick manufacturing industries etc.
Shri Balaji Iyengar, ED (Rihand ) flagged off the First BTAP rake comprising of fifty one Wagons taking fly ash from NTPC Rihand to NTPC Dadri on 9th December, 2020.
Posted Date : 10-12-20
Categories : PSU NEWS
Tag Cloud: PSU NEWS