Massive Yoga Camp organized in Ukkunagaram PSU NEWS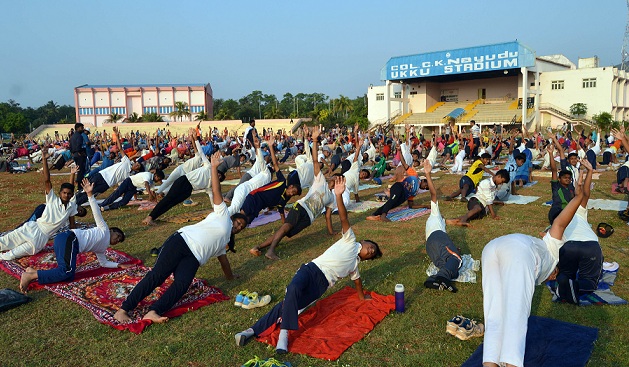 Ukkunagaram: A large gathering of Yoga Session for campers of all disciplines was held in Col CK Nayudu Ukku Stadium recently as part of the summer coaching camp being organized for thirteen disciplines i.e Athletics, Boxing, Badminton, Chess, Cricket, Football, Hockey, Roller Skating, Lawn Tennis, Basketball, Volleyball, Kabaddi and Yoga.
The Summer Coaching camp which is being organised by Sports Dept of
RINL-VSP
from 2nd to 17th May 2019, has thirty seven coaches imparting coaching in thirteen disciplines for two sessions daily.
Over one thousand children participated in the yoga session under the guidance of Yoga teacher Sri A Kanaka Rao. Breath control techniques, meditation and specific body postures were demonstrated and their importance elaborated for better health and relaxation.
Posted Date : 15-05-19
Categories : PSU NEWS