NRL signed MoU with Oil India Limited MOU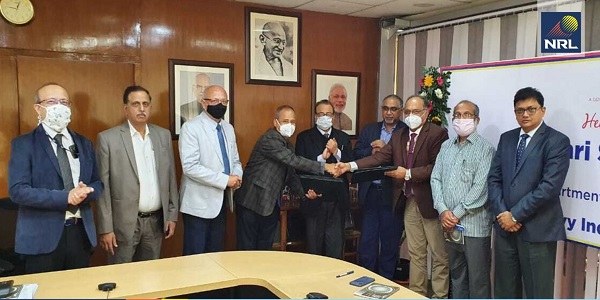 New Delhi: Nurmaligarh Refinery Limited (NRL) entered into an MoU with Oil India Limited on December 18, 2020, to augment OIL's existing pumping capacity through Numaligarh Siliguri Pipeline (NSPL). This will increase product evacuation from 1.72 to 5.50 MMTPA and will be commissioned by July 2024 in sync with NRL's refinery expansion from 3 to 9 MMTPA.
The Memorandum of Understanding was signed by Mr. MK Pegu, Head (Project Pipeline), NRL and Mr. Sandip Goswami, CGM (OPS) PL, OIL in the presence of Honorable Secy., DPE, Shri Sailesh; CMD OIL Mr. SC Mishra; MD NRL Mr. SK Barua, and other senior officials from both the companies.
The MoU will help NRL in product evacuation after refinery expansion, and OIL will replace NRL as project proponent for monitoring of the product pipeline project under National Infrastructure Projects (NIP).
Posted Date : 19-12-20
Categories : MOU
Tag Cloud: MOU