SCI Bestowed with Pride of the Natio Award HONOR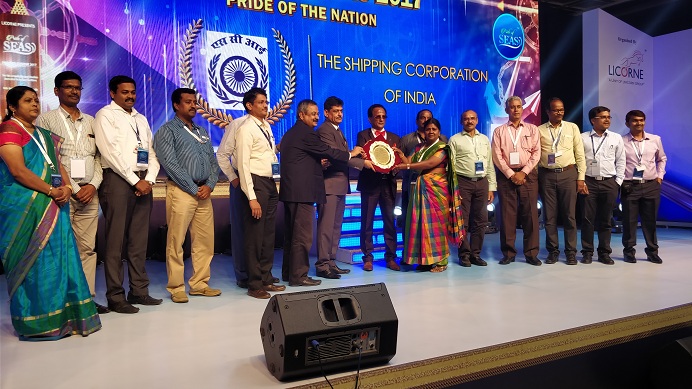 Chennai: The Shipping Corporation of India Ltd (SCI) received three awards during the 'Pride of Seas' event held at ITC Grand Chola, Chennai on 13th October 2017. The award function was conducted by Licorne, a Unicorn Maritime Group company to honour the excellence of seafarers. Nominations were invited from various ship owners, crew managers and Shipping & Logistics companies across the globe. Winners were selected by an expert jury from the maritime industry. 
Capt. Devendra Kumar Singh, SCI Master, was awarded under the category 'Award for Captains' while Capt. Radhika Menon, SCI Master, was awarded under the category 'Award for Exemplary Service'. In addition, SCI was honoured with the 'Pride of the Nation' award for becoming the first Indian shipping company ever to become a 6.01 million deadweight company and for making the Indian Maritime proud. 
Capt. Anoop Kumar Sharma, C&MD, SCI dedicated the award to all the employees of SCI. As a token of appreciation, he invited all the employees of SCI Chennai present in the event to come up on the stage to receive the Award along with him. While receiving the award, Capt. Sharma highlighted on the teamwork, unstinted support & dedication of each and every employee of SCI in achieving this milestone. 
On this occasion, Capt. Sharma also congratulated all the stakeholders and reiterated on SCI's vision to be the 'Numero Uno' in Indian shipping. 
Posted Date : 17-10-17
Categories : HONOR