CMD IREDA participated in the high level webinar PSU NEWS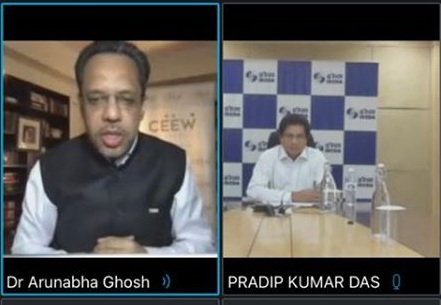 New Delhi: CMD, IREDA participated as a Panelist in the High Level Webinar on 'Impact of COVID-19 on the EU and India's RE sector and how to ensure green recovery' organized by the Delegation of the European Union to India and highlighted Government of India's initiatives viz. Time extension for completion of RE projects, Moratorium for payment of loans, Provision for must-run status for RE projects and relief package to DISCOMS, etc while re-emphasizing Hon'ble Prime Minister's vision for "Ease of doing business".
IREDA's initiatives during COVID-19, in the form of new schemes like Modified Top-up Loan, Moratorium for Term Loan's installments, by relaxing the securitization of assets by allowing time for the same, virtual contacts through VC instead of physical visits for business continuity, were also shared with the participants.
The COVID pandemic has created a situation for working from home, using digital modes of working that has coincidentally resulted in saving of time, travel and other expenditure to the borrower and lender and ultimately resulting in the overall reduction in project costs.
CMD, IREDA underlined the need for future cooperation between India and EU in priority areas like digitization, off-shore wind, bio-energy and hydrogen energy. He emphasized for investment in the proposed IREDA "Alternate Investment Fund" and for sharing of best practices along with capacity building etc.
CMD, IREDA observed that Power and RE are among the few sectors which are relatively less affected in COVID-19 crisis. Hence we have to lead the recovery process and other sectors look up to us. The world is of course facing challenges, but together we will overcome, because we are in energy sector, and that too renewable energy. In the these trying times, IREDA is looking at EU not only as a credit giver, but also as a partner to stand by each other for a resilient future.
Posted Date : 16-07-20
Categories : PSU NEWS
Tag Cloud: PSU NEWS