IndianOil (SRPL) Takes up Water Body Clean-Up in Chennai CSR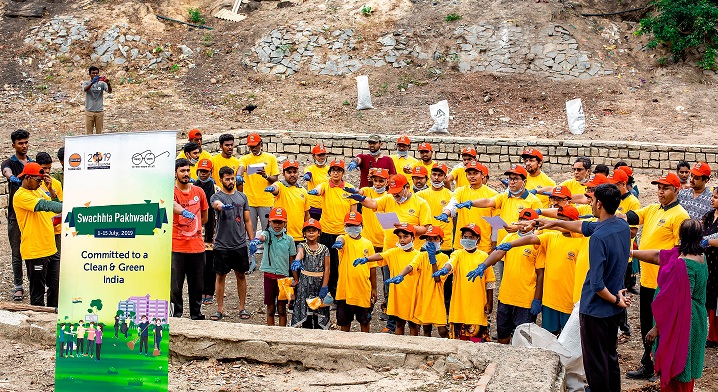 Chennai: Shri D S Nanaware,
ED (SRPL) led the employees of
IndianOil's
Southern Region Pipelines
in a two-day cleanliness drive conducted at water pond Oma Kulam-2 at Madhavaram in Chennai on July 13th 2019. He administered the Swachhta Pledge to all the volunteer participants comprising employees from SRPL, Chennai and Manali as well as from different schools, colleges and neighborhood residences of the pond. Chennai is facing acute water crisis this year and eagerly awaiting for few rains  in South West monsoon.
During the cleanliness drive two truck load of garbage consisting of plastic waste, straws, bottles etc. collected and moved out to the city corporation's dump yard.  The surface clean-up activity initiated during this Pakhwada shall be further intensified by de-silting the floor and strengthening of the bunds surrounding the water body to give it a complete revamp in the days to come.The clean-up activity was followed by water conservation talks by Environmentalist Foundation of India (EFI) team, who coordinated the activity. Total 2 truckloads of waste collected from the pond. Further IndianOil intends to take up bund strengthening, plantation & desilting works, to make the pond  rejuvenated.
During the programme, all volunteers were provided with stainless steel water bottles to avoid usage of one time usage plastic bottles. Nearly 100 volunteers participated in this two-day event as part of Swachhta Pakhwada. 
Posted Date : 16-07-19
Categories : CSR