NCL Organised One Day Workshop on Comprehensive Emergency Life Support PSU NEWS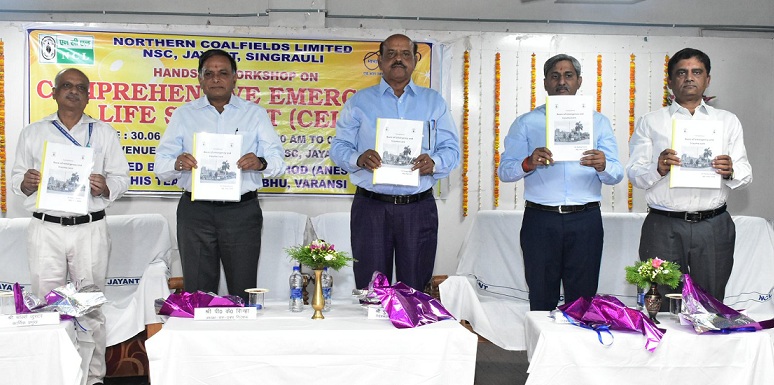 Singrauli:
Northern Coalfields Limited (NCL)
organized workshop on
'Comprehensive Emergency Life Support'
on Sunday at its
Nehru Century Hospital (NSC)
Jayant. Team of specialist doctors of Institute of Medical Sciences,
Banaras Hindu University (IMS BHU),
trained doctors and paramedical staff of NCL on various aspects of dealing with emergency medical conditions.
Shri P. K. Sinha,
Chairman-cum-Managing Director (CMD) of NCL graced the occasion as Chief Guest. Director (Technical & Operations) NCL,
Shri Gunadhar Pandey,
the Director (Technical & Project and Planning), NCL,
Shri P. M. Prasad
and Director (Finance & Personnel), NCL,
Shri N. N. Thakur
were present as guests of honour. 
Shri N.N Thakur, Director (Finance & Personnel) thanked team of specialist doctors of IMS BHU for coming to NCL and training the doctors of the company. He further stressed on increasing the number of such training programmes. 
During the workshop, more than 100 doctors and paramedical staff of NCL learned how to deal with various types of emergency and medical conditions. During this period, practical were also performed in various emergency situations, including unconsciousness, heart attack, persistent bleeding and oxygenation. Training on a popular methodology of emergency medical care (Airway, Breathing, Circulation, Disability, Exposure) and basic & advanced life support was also given.
Dr. Yashpal Singh of IMS BHU said that it is a matter of pride for their team to serve people of Singrauli by training medical team of NCL. He also expressed hopes of supporting NCL through more such workshops.
A booklet was also released in the program containing methods dealing with emergency medical conditions written by Dr. Pankaj. Dr. Uma Shankar, Chief of Medical Services (CMS), NCL welcomed and thanked all the participants while Dr. Pankaj Kumar of NSC presented a summary of the activities undertaken during the workshop. Dr. Umashankar, CMS NCL, Dr. Pankaj Kumar and medical team of NCL was instrumental in organizing the workshop. 
Posted Date : 01-07-19
Categories : PSU NEWS