Secretary Power Compliments POWERGRID PSU NEWS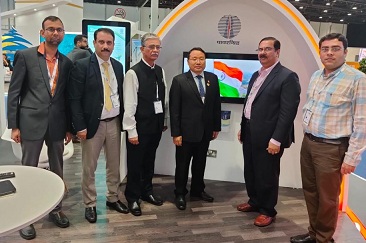 POWERGRID displayed its transmission and energy related services at the 24th World Energy Congress in Abu Dhabi. ?HE Engineer Awaidha Murshed Ali Al Marar, Member of the Abu Dhabi Executive Council & Chairman of the Department of Energy, UAE visited POWERGRID POD and complimented POWERGRID for its display.
Energy Minister of Nepal Shri Barshaman Pun 'Ananta', Secretary (Power), Ambassador Nepal and Jt. Secretary Energy, Nepal also visited the stall exhibited by POWERGRID. Secretary (Power) Shri Subhash Garg, on this occasion complimented that "POWERGRID knows their job and they are the best".
Posted Date : 17-09-19
Categories : PSU NEWS