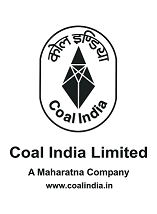 Coal India Limited
Coal India Limited is an Indian state-controlled coal mining company headquartered in Kolkata, West Bengal, India and the largest coal-producing company in the world and a Maharatna company. The company contributes to around 82% of the coal production in India.
Coal India Limited (CIL) as an organized state owned coal mining corporate came into being in November 1975 with the government taking over private coal mines. With a modest production of 79 Million Tonnes (Mt) at the year of its inception CIL today is the single largest coal producer in the world. Operating through 82 mining areas CIL is an apex body with 7 wholly owned coal producing subsidiaries and 1 mine planning and consultancy company spread over 8 provincial states of India. CIL also fully owns a mining company in Mozambique christened as 'Coal India Africana Limitada'. CIL also manages 200 other establishments like workshops, hospitals etc. Further, it also owns 26 technical & management training institutes and 102 Vocational Training Institutes Centres. Indian Institute of Coal Management (IICM) as a state-of-the-art Management Training 'Centre of Excellence' - the largest Corporate Training Institute in India - operates under CIL and conducts multi-disciplinary management development programmes.
CIL having fulfilled the financial and other prerequisites was granted the Maharatna recognition in April 2011. It is a privileged status conferred by Government of India to select state owned enterprises in order to empower them to expand their operations and emerge as global giants. So far, the select club has only seven members out of290 Central Public Sector Enterprises in the country (as on 31/03/2014, source-DPE).