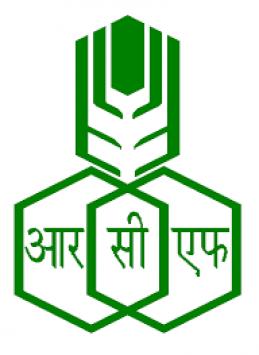 Rashtriya Chemicals And Fertilizers Limited
Rashtriya Chemicals & Fertilizers Ltd. is a Public Sector Undertaking in India under the Ministry of Chemicals and Fertilizers of the Government of India, based in Mumbai. RCF is one of the leading producers of fertilizers in India.
RCF is one of the earliest units set up in the country with a vision of growth in fertilizer production for food security. It manufactures Urea, Complex Fertilizers, Bio-fertilizers, Micro-nutrients, 100 per cent water soluble fertilizers, soil conditioners and a wide range of Industrial Chemicals. It produces 23 lac MT Urea, 6.5 lac MT Complex fertilizers and 1.6 lac MT of Industrial Chemicals every year. The company is a household name in rural India with brands "Ujjwala" (urea) and "Suphala" (complex fertilizers) which carry a high brand equity. RCF has countrywide marketing network in all major states. Apart from the own manufactured products, the Company is also engaged in marketing of SSP and imported fertilizer inputs like, DAP, MOP & NPK fertilizers. Besides fertilizer products, RCF also produces almost twenty industrial chemicals that are important for the manufacture of dyes, solvents, leather, pharmaceuticals and a host of other industrial products.
RCF has always striven for upkeep of the plants through modernizing and upgrading technology. Revamping and de-bottlenecking is the secret that has kept the company thriving for five decades. As part of modernization, RCF has recently modernized its Ammonia – I, Nitric Acid, Methanol and ANP plants. This has facilitated plants to sustain operations and meet technological challenges of improved efficiency, lower energy consumption and maintain environmental norms. It has also resulted in company achieving the highest standards of safety and product quality.
Since inception, RCF has successfully and safely operated two dozen chemical and fertilizer plants for the past five decades at Trombay. The Company has operated plants at Thal for last thirty years and maintained the quality of environment. This itself has been a huge challenge and demonstrates company's commitment towards environment and concern about the neighbourhood. RCF has spent more than Rs. 400 crore over the years in various pollution abatement and environment improvement schemes. This includes massive drive for tree plantation under "Chembur Green" Project. Complete transparency is maintained by the Company in dissemination of environment related data and information. Through four dedicated continuous Ambient Air Monitoring Systems located around the boundary of the factory, real time emission levels are displayed through an illuminated board placed at the entrance of the factory for public viewing. No wonder that the company is maintaining ISO 14000 accreditation for environment since fifteen years. Both the manufacturing units are accredited with ISO 9000 for quality and OHSAS 18000 for Occupational Health and Safety.
RCF also strongly believes in discharging its Corporate Social Responsibility diligently with an objective to benefit the needy and for general good of the society. A host of CSR activities are undertaken by the company which includes adoption of villages, providing drinking water, providing schooling facilities and scholarship, providing Mid-day meal, providing special coaching facilities to poor students to enable them get admission in IITs and NITs, Community Medical facility through Mobile Medical Vans, special measures for SC/ST and under privileged, providing training to farmers etc. As part of its social efforts, the company has adopted 63 villages in Maharashtra, Karnataka and Andhra Pradesh for overall development, a program that has brought about qualitative changes in the economic status of the farmers and people of various professions in the village.
RCF believes in providing one stop shop to farmers by marketing its own products and procuring other products for farmers through imports or tie-ups with other manufacturers. Though the manufacturing plants are distributed in two locations within Maharashtra, RCF markets its products throughout the length and breadth of the country with its products reaching even the far off north eastern states of India.
To promote balanced use of fertilizers for improving the farm productivity and also to help in maintaining soil health, RCF has established 12 (twelve) static Soil Testing Laboratories (STL) in the country at strategic locations, namely Mumbai, Kolhapur, Nagpur, Ahmednagar Satara, Latur Hassan, Vijaywada, Kolar, Suryapet, Raipur, Nanded and Lucknow covering the soil testing activity in the districts around these STLs. In addition to the static STLs, the Company also operates 6 (six) Mobile Soil Testing Labs. This service is rendered free of cost to farmers. Since last 40 years, RCF has analysed more than 50 lakh soil samples.
RCF has sought to bridge the gap between Research Scientist and the farmer by setting up dedicated Farmer Training Centres at Nagpur and Thal. RCF publishes a monthly farm magazine which started in 1967 and was called "Trombay Sheti Patrika". This farm magazine is now renamed as "RCF Sheti Patrika". Sheti Patrika disseminates latest agricultural information & practices to the farming community. This magazine is distributed free of cost to the farmers and presently it has a readership of over 1.50 lakh farmers. The Company has also introduced a "Toll Free Helpline – 1800 22 3044" service through which the farmers can get advice and suggestions on their agriculture and farming related queries.
The Company is poised for growth through implementation of major projects which will help reduce the demand-supply gap of fertilizer in the country. Company is engaged in developing a project for 1.27 million MT Urea plant at Thal and another of 1.27 million MT Urea plant based on coal gasification at Talcher. Apart from the proposed fertilizer projects in India, RCF is looking for opportunities for setting up Joint Venture Projects in resource rich countries.
RCF does what it commits. The commitment is translated in a written document – the Memorandum of Understanding (MOU) with Government of India. The performance is evaluated independently by the Department of Public Enterprises. RCF has been consistently achieving best rating of "Excellent" for past several years. Having accredited with "Mini-Ratna" status by the Government of India, it is now poised to get "Navratna" status. RCF has maintained a good financial position.