Ms. Pomila Jaspal takes over as Director-Finance MRPL NEW FACES IN PSUS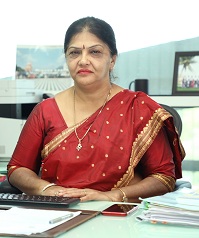 Mangaluru. Ms. PomilaJaspal, has taken charge as Director (Finance), Mangalore Refinery and Petrochemicals Limited (MRPL).. She was serving as Executive Director-Corporate Finance in ONGC before being appointed in MRPL.she brings to the table over 34 years of rich experience in various aspects of Finance in Oil Industry, both from operating and regulatory prospective. She is the first woman Functional Director in the Board of MRPL.
Ms. Jaspal's educational background is highly accredited and directly contributes to her field of operations. A Fellow Member of ICMAI and Gold medalist and recipient of Late Mrs. DhanpatiGoel Gold Medal from ICMAI. She has obtained B.Com. (Hons) degree from MCM DAV College, Chandigarh and M.Com. from Punjab University. Before joining ONGC, she had a short stint as Lecturer in HMV College, Jalandhar.
Ms. PomilaJaspal, joined ONGC in 1985 as Finance & Accounts Officer .She earns the distinction of being the first lady officer in ONGC to occupy this top post. She's also the Chairperson of Women Development Forum, an ONGC forum dedicated to all women employees of ONGC. she was appointed on the Board of OPaL (ONGC Petro additions Limited) as woman Director.
She also carries with her the rich exposure of ONGC Videsh, International arm of ONGC, handling the assignment of In-charge, Project Finance, for execution of almost all overseas projects (Exploration and Development) and was actively involved in smooth takeover and execution of new acquisitions of OVL. Subsequently, she became Head-Finance of Assam Asset, ONGC, and handled this challenging assignment for 4 years.
Posted Date : 16-10-19
Categories : NEW FACES IN PSUS