SJVN Declared an Interim Dividend of Rs. 589.47 Crore for FY 2018-19 PSU NEWS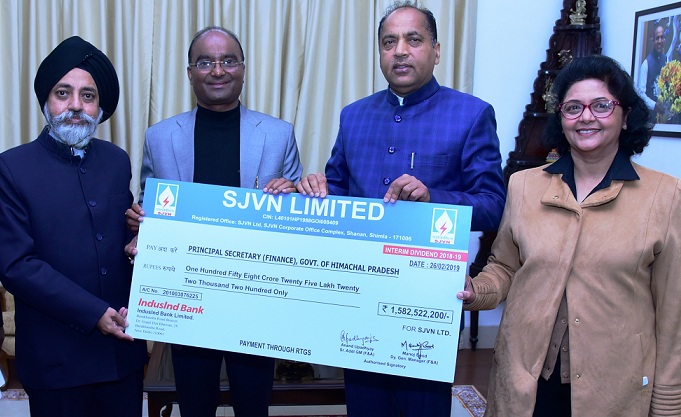 Shimla: On account of its financial performance for the year 2018-19 public sector SJVN Limited has declared an interim dividend of ` 589.47 Crore (@ 1.50 rupees per share) to its shareholders. SJVN Limited has paid an interim dividend of Rs. 158.25 Crore to the Govt. of Himachal Pradesh holding 26.85% equity in the Company.  
The dividend cheque was handed over to the Chief Minister of Himachal Pradesh
Shri Jai Ram Thakur
by
Shri Nand Lal Sharma,
Chairman & Managing Director,
SJVN Limited
at Shimla. The cheque was presented in the presence of Shri A. S. Bindra, Director (Finance), Smt. Geeta Kapur, Director (Personnel), Shri A. K. Singh Chief General Manager and other officers of SJVN.
While handing over the cheque to the Chief Minister, Shri Nand Lal Sharma informed him that the company is being managed proficiently with a team of efficient professionals which is fruitfully contributing its profit to its shareholders. The Government of Himachal Pradesh has already been paid a total dividend of `1643.31 Crore till date on an investment of `1055 Crore. Currently, the Government of India is holding 62.44 % shares of the company while 26.85% shares are with Government of Himachal Pradesh & 10.71% with the public.
He also reaffirmed his solemn resolve and commitment that SJVN would achieve the ambitious targets of becoming 5000 MW Company by 2023, 12000 MW by 2030 and 25000 MW Company by 2040. He further asserted that, SJVN would always remain an active partner in contributing for the growth of the State.
During his meeting with Chief Minister, Shri Sharma conveyed Chief Minister that SJVN would like to develop all the Power projects in Chenab River Basin if the Government of HP develops the transmission and other enabling infrastructure required for evacuation of Power and execution of projects.
The Chief Minister was kind enough to assure all the support of the government in early execution of various Hydro projects being executed by SJVN in Himachal Pradesh which includes Luhri Stage I & Stage II, Sunni Dam, Dhaulasidh & Jangi Thopan Hydro Electric Projects having generation potential of 1610 MW.
Besides executing Projects in Himachal Pradesh, SJVN is presently executing projects in Nepal, Bhutan, Uttrakhand, Bihar and Gujarat. The cumulative generation capacity of these projects will be 4798 MW. SJVN which has already diversified in the field of Wind Power, Thermal Power and Power Transmission is presently generating more than 2000 MW of electricity.
Posted Date : 14-03-19
Categories : PSU NEWS