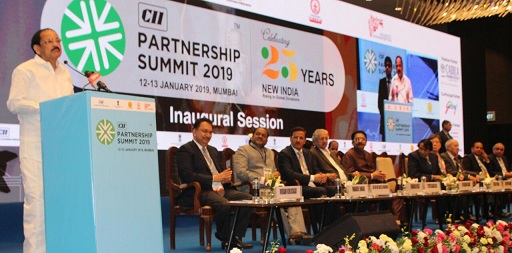 Mumbai: The Vice President of India Shri M. Venkaiah Naidu has stated that reforms and steps taken by the Government of India to improve Ease of Doing Business will continue, since the mood of the people is in favour of growth and development, in line with the Prime Minister Shri Narendra Modi's mantra of "Reform, Perform and Transform". He said that Indian economy has been writing a fascinating growth story over the last decade. Even when the world went into a slowdown, India endured. The VP said that this has been due to the robustness of India's institutions, the resilience of its policy frameworks, the reforms initiated by the government and the responsiveness of industry bodies. The Vice President was addressing the inaugural session of the 25th edition of the CII Partnership Summit, in Mumbai today.
The VP noted that India has achieved the dual distinction of being a stable democracy and one of the fastest growing economies in the world. Recounting the latest forecast of the World Bank, Shri Naidu said that the size of the Indian economy is expected to touch $5 trillion in a few years, which would further double to $10 trillion by 2030.
The Vice President said that thanks to various reforms undertaken by the Government, India has become a favourite investment destination, with a ranking of 11 in the Global FDI confidence Index 2018. This is the right time for foreign investors to tap into the huge potential offered by India in various sectors from real estate to healthcare, said Shri Naidu. The Vice President spoke also said that the Indian consumer market has huge untapped potential.
The Vice President said that a series of economic and administrative reforms undertaken by the Government have not only added more tax payers but also enabled the government to bring down tax rates, also improving the way business is done. These are also aimed at making the economy inclusive, he said. GST is the most transformational reform initiated by the Government; it has converted India into an integrated market, it has become popular and captured the imagination of the people, said the VP. He added that initiatives such as Make in India, Skill India, Digital India, Smart Cities, Housing for All scheme and Start-up India are opening up new opportunities.