CMPDI organized Free Medical Camp under CSR activity CSR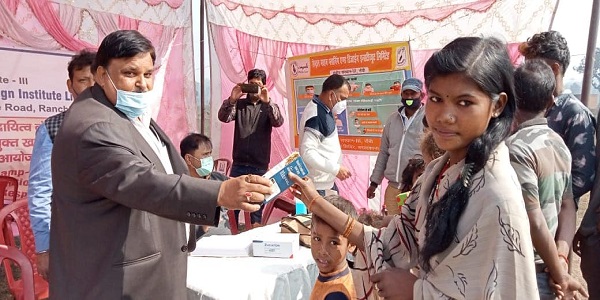 Ranchi: Medical camp co-protein for residents of Ward No. 19, Birhor Basti, Ghutua village under the direction of Mr. Manoj Kumar, Regional Director, Regional Institute-3 Ranchi under the social responsibility of the Corporation under the direction of the Corporation. Food materials distribution camp contained.
In this camp, 245 villagers were tested and given free medicine. In this camp, a sample was taken for free blood testing of 200 villagers. Along with this camp, the eyes of 110 villagers were also given free consultation. On this occasion, Mr. Ujjwal Dawra of Jharkhand AIDS CONTROL SOCIETY was given information about HIV AIDS as to how it happens and its prevention and symptoms. The camp was distributed a protein-contained diet among 180 villagers following social distancing, keeping government guidelines in mind.
On this occasion, Mr. A. K. Mishra, Preferred Manager (of. ), Dr. Om Prakash, Deputy Chief Medical Officer, Mr. Chandrabhushan, Camp Incharge, Barkakana, Mr. Vijay Kumar, Secretary (C. M. U. ), Shri Rajshree Dhar, Shri Vijay Kumar Singh, Mr. Dhananjay Ku Rai, and Amit Kumar Bakshi were mainly present.
Posted Date : 10-12-20
Categories : CSR
Tag Cloud: CSR