New product offerings and MoU from BEML DEFEXPO 2020 MOU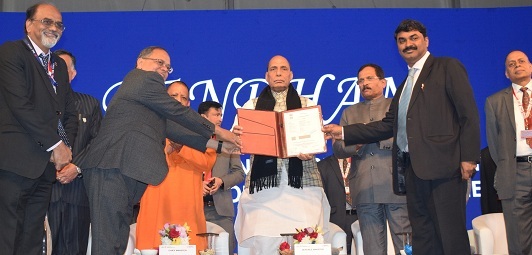 Lucknow: BEML introduce a new in-house designed & developed state-of-the-art Heli-portable Hydrostatic Drive Crawler Dozer with Advanced Power Angle Tilt feature. It has advanced Electric Monitoring System for accurate and smooth operation and adjustable Operator's seat for excellent comfort.
This dozer can be used mainly for clearing debris, making roads areas an exclusive use for Army applications in tough terrains. It can withstand extreme temperature variations from high temperature to minus temperatures. 
MOBILE STANDBY COMMAND POST VEHICLE (MSCPV)
BEML also launched this Armoured Troop Carrier which is a Bullet Proof Mobile command & control vehicle, on high mobility 4x2 chassis and carries up to 24 troops. 
Main Features : It is integrated with all security systems connected through wireless technology and  is capable of functioning as a parallel and independent command & control centre. It is fitted with high-end camera with a 360 degree rotation.   
Its highly useful for urban and rural police operations including crowd control and riot prevention. It can act as a surveillance vehicle for borders & remote areas. Light weight steel composite hull on a robust4x4 chassis includes 360 HP engine with a maximum speed of 110 kmph with 60% grade ability with 25 deg side slope and high ground clearance enables it to travel through fields, over ditches and obstacles, as well as hilly and rocky terrain. It easily traverses mud, snow, gravel and sand while it speeds over dirt and paved roads. It is also equipped with a DG set with UPS as emergency backup for electronic subsystems. 
MoU: On Day 3 under BANDHAN a joint initiative of the Ministry of Defence  Govt. of UP BEML entered into MoUs  with the following companies that are as under. Accepting the Licence of Agreement for Transfer of Technology from DRDO Shri Deepak Kumar Hota, CM, BEML said, " With the signing of the MoUs,  BEML is upbeat and would like to establish itself further towards building the nation's capability and create a footprint in UP as well. We are optimistic of the future that augurs well for the Defence industries."
Research & Development Establishment (Engineers) (R&DE(Engrs)), DRDO and BEML Ltd are committing to a long-term partnership through License Agreement Transfer of Technology for indigenous development of new "Technology" of Mine Field Marking Equipment Mk-II (MFME Mk-II)". This Product will be utilized by Indian Army for marking the entire perimeter of the mine area in remote locations and fence it through a semi automatic system on a high mobility multi terrain platform.
BEML Limited & Pearson Engineering Ltd, UK are entering into an MoU for manufacturing, supply, integration, provide training, Spares & Services for "Track Width Mine Plough" for T-90 Tanks. The commitment is to localise to the maximum extent. This demining equipment is time tested for different soil conditions of Indian desert and Customized to Indian operations.
BEML Limited & Bharat Forge Ltd, Pune are entering into an MoU for collaborative programmes viz. Development of Mounted Gun System on a 4x4 High mobility vehicle, critical armoured machined forgings for Recovery vehicles, Power train components for 1500 HP Engine and explore potential export markets for APCs.
BEML Limited & Prognosys Medical Systems Pvt Ltd, Bangalore are entering into an MoU for jointly explore emerging opportunities in AI based Medical Health & Diagnostic Systems on High Mobility Platform for Military applications. This product gives operational advantage to Indian Army in deploying at remote locations for faster diagnosis of wounded soldiers by a paramedical or Junior Doctors. The prescription / recommendation of treatment from Specialists is through AI based technology.
BEML Limited & Texmaco Rail & Engineering Private Limited, Kolkata are entering into an MoU to jointly address development of systems / subsystems; manufacture; maintenance of existing systems of Russian OEMs in India for T series Tanks and also special rail wagons to Indian Railways.
BEML Limited & Punj Corporation Pvt Ltd, New Delhi are entering into an MoU to jointly explore development of Russian items for T-72/T-90 tanks for upgradation & overhauling programs under the policy initiatives of the Government of India.
BEML Limited & Si2 Microsystems Pvt Ltd, Bangalore are entering into an MoU to jointly explore business opportunities for technology requirements in Defence forces in electronic systems, sub systems, electronic fencing and surveillance systems.
Posted Date : 07-02-20
Categories : MOU